On Your First Date; The Things You Can Talk About
Meeting someone for the very first time and impress the person can be somewhat tricky if you don't know what to talk about. On your first date, if you know what to talk about, it won't take you long before you impress your date.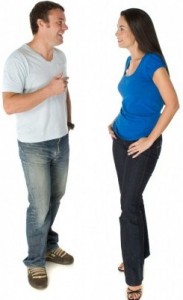 Knowing what to talk about will make it easy for you to have a good impression before your date. You don't have to be charmer to impress your date, with the very first minutes that your date will use to form an opinion about you, talking what excite him or her within that few minutes will immediately have an impact on the way your date will feel about you. [Must Read: How to talk to girl you never met before and impress her]
Things you can talk about on your first date
1. Keep it simple and warm at the first sight; keeping it simple and warn when you sight a girl mean putting on a truly smiling face, because if you fake your smile, it will tell immediately and your date will notice it. You wouldn't want that, the reflection of your smile has much to say about whether you're going to be interesting or not.  Girls love to be around someone who will make them feel comfortable with their smile rather than a freaky somebody who will make them unhappy.
2. Please don't use pick-up lines for your date because you may stalk along the line, not knowing what to say next and that will jeopardize your chances of turning your date into something meaningful with a  future assurance. [Must Read: What Girls Always Notice on First Date]
3. Make it known or tell her that you're happy to meet her; the very first thing you should talk about when both of you are ready to talk is telling her that you're happy to see her, it's just a one line that can bring her down a bit for you. Talk about how happy you are to see her, or how nice it is to have bumped in to her. It's just a sentence, yes, but one that warms both of you up for the good things to come.
4. You can follow up by complimenting her, telling her something like, you look nice, or you're looking stunning and you don't have to stop at that, you need to really look at her very well and use one of what she is wearing to complement her further. Don't over exaggerate it, just keep it simple, there are chances that some of your complement would have been said to her by other guys times without number. So, not over doing it will keep you interesting to her. You can mention the colour of her dress and say some good things about the colour, or possibly, it's your favourite colour, you can use her hair, if it is long, say something like you cherish ladies with long hair and blah blah blah like that…..
5. Go further by asking of how is her day, this will mean you have interest in her life within that few minutes you're together. Asking about her day will open up other talks both of you can talk about and bring in the much friendship you desire in her. She will be happy seeing you as someone who shows interest in her everyday life.
6. Take a look around you and pick something interesting to talk about; there will be of course something that can even relate both of you together that can bring in more things to talk about. You may meet her in school, church, party, museum and other open places like that, use the surrounding environment to keep her engage with talks. [You Can Also Read: How to Talk to Girls an Win Them Over]
If you can take it to this level, believe me, you've had much to talk about already. It's never a boring talk. These are things you can talk about on your first date and imprint in her mind a very good impression that will make her remember you even after you might have been long gone.
What do think about all these? I will like to hear from you, you can use the comment form below or get in touch with me on the my Facebook Fan Page and lets talk.