Whether you're wedding in stylish ballroom or on a grand estate, you're definitely going to put on a dark, formal suit or a tuxedo. You'll certainly require formal wedding shoes for this form of smart wedding:
The Oxford formal wedding shoes
This ultimate men's formal wedding shoe is as well referred to as the Balmoral, and every man ought to have at least one pair of it. The distinctive feature is that it is made up of a closed lacing structure, which entails that the eyelet tabs are sewn beneath the vamp.
This makes the shoe appear more clean and glossy, but the lacing structure is less flexible, which makes it more restricting. It's the perfect shoe for a suit and it's an outstanding choice for your wedding day.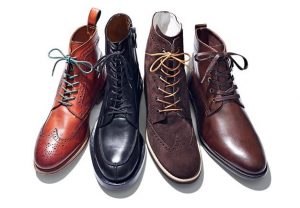 The Monk Strap formal wedding shoes
If you're looking for reasonably formal wedding shoe, but with a bit more appeal, this is the formal wedding shoe you need.
The shoe style falls anywhere between the Oxford and the Derby, but the laces have been substituted by a strap that runs across the top of the foot, and it is made up of one or two buckles.
The buckles provide an opportunity for an adjustable foot width and this makes it very comfy.
What make your formal wedding shoe exceptional
When it comes to dress formal wedding shoes, there are definite features that will set your shoes apart from all others, and these are caps and patterns.
A. The Cap formal wedding shoe:
The Cap is the front part of your shoe, where your toes fit in.
1. Plain toe formal wedding shoe
The plain toe is the least flashy of the styles, it's as simple as it gets, and can be used for all occasions.
2. Cap toe
This type of formal wedding shoe is made up an extra band of leather that covers the toe area of the shoe. It's the most widespread style and it's a typical wedding shoe model to be used together with a suit.
3. Wing tips
The cap toe comes to a point in the middle – above the toes – and broadens out towards the sides of the shoe, in a W shape that appears like a pair of wings. There are different styles like wingtips and long-wings.
B. The Pattern:
These decorative shapes help you to show off your character.
1. Plain pattern
The leather has no decorations but are structured in a different shine.
2. Brogue pattern
Brogue pattern shoes are shoes that have perforations in the leather. They are of different forms including full brogue, long-wing brogue, semi-brogue and quarter brogue.
Basically what is implied by the cap and pattern is that you can obtain a wingtip Oxford, a plain toe Derby or a cap toe monk strap. Thus, you have a lot of shoe styles that would suit every man.
3. Colour Conscious
The colour shoe you select depends on what you're wearing, even though modern weddings provide far more margin to the audacious groom. Shoes ought usually to be as dark, or darker, than your suit, but if you decide to go for a pick a contrasting shade, you must ensure that your outfit is balanced.
You can make this happen by coordinating shoes with accessories. Remember not to overdo it and ensure that your shoes match to your belt, watch, suspenders, tie and hat.
Black or charcoal suit should go with only black shoes.
Light grey suit without any form of brown undertones should go with black shoes.
Light grey suit with brown undertones are best with dark brown shoes
White suit are best with white shoes.
Cream-colored or tan suit should go with light or medium brown shoes
Navy blue suit is most suited for brown or black shoes
To get a shoe that is suitable for your wedding try to observe the following shoe rules:
Ensure all labels are taken out. You wouldn't want people seeing the price tag on your shoe when you are kneeling down on the altar.
If you bought formal wedding shoe new, try them on before your wedding day to break them in.
Don't wait till the last minute to purchase your wedding shoe.
Go for your personal style but tray to strike a balance with a shoe that is timeless
Go for a sleek design; the sleeker the shoe, the more formal it is.
Your toes ought to be rounded and not squared.
While making your choice of groom's wedding shoe, always go for fit over style