Planning my own wedding took me on a journey into the intricate world of wedding décor. I understand the importance of careful and attentive planning and how crucial it is to spend a lot of time concentrating on the finer details. It takes skills and professionalism to get the perfect result.
The wedding reception decoration can change the look and feel of the entire event, without which a wedding can be completely bland. Before settling on colors and flowers, learn what each of them symbolizes. Mixing and matching colors or flowers may create more drama and add depth to the meaning.
Start your planning and start considering about the general impression you want to create, whether it be subtle, flamboyant or colourful and then you can integrate the colours and ideas that will make the venue look amazing. The most important thing to remember when choosing your wedding décor is to let your personality shine through in the style you choose to go for.
The event decorator ought to be able to effectively reflect your goals and impress your guests by implementing exotic decoration ideas in the most professional manner.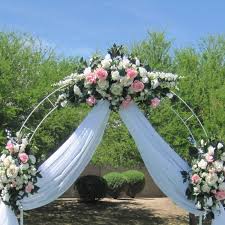 Wedding Reception Decorations of Tables

Wedding reception decoration of the table in order to make it align with the style and theme of the wedding is very important for beautiful and unforgettable reception settings. So, whether you want to decorate a head table for the bride, groom and the bridal party or an warm sweetheart table for just the wedding couple, you have got few wedding reception table decoration ideas that would definitely appeal to you.
Table Linen:
You have the option of choosing simple or fancy, stylish or extravagant. Whatever your choice is, the wedding table cloths should be selected based on the theme of the wedding. Though, they might look trivial but the table cloths and covers are significant part of the wedding table decoration. Instead of choosing a plain white table cloth, go for bold, elegant, exaggerated, complicated, classic or frilly table linens. You can as well incorporate table cloths with lace edgings, fancy designs and sophisticated patterns or even table liners cheap selection that would bring extra glamour to your table.
Centerpieces:
The wedding centerpieces are the distinctive most significant decorative element when you are planning for table decorations for your wedding receptions. Even though, flower arrangements are trendy as centerpieces, they can be very costly. You can as well adorn your guest tables, food tables and the gift tables with outstanding and unique wedding table centerpieces like candle decorations.
Sprinkles:
You can create an alluring atmosphere by accenting the guest tables with acrylic ice crystals or spray rose paper petals. You can use these on their own or combine them with the centerpieces.
Lighting:
Including light sources in the table décor can add a touch of stylishness and a romantic atmosphere to the wedding reception. Use tea-light candles in minute crystal vases or suspended candles as centerpiece accents.
Place Cards:
Place cards ought not to merely have a useful purpose. Distinctive designs and adaptable place card holders can be used to give a face-lift the tables. Use a wonderfully, gold place card holder with beads for a conventional wedding and a flip flop or a starfish place card holder for a beach wedding.
Wedding Kissing Balls
Pomanders or kissing balls as they are commonly known are one of the trendiest ways to decorate a wedding scene. Previously, it was used only as Christmas decorations, but they have currently become reasonably popular for any kind of celebration or event that requires decoration. They are essentially foam balls that are decorated with flowers, fabric, and so on to give it a rounded and chock-full appearance. The previous versions were made using holly and mistletoe, but nowadays, they can be made with a lot of different materials.
Decoration for a Church for a Wedding
When you intend to have a church wedding, it is crucial to use decorations that affix a touch of archetypal sophistication and glamour to the place. With some innovations and imaginations with regards to your wedding decorations, you can make your wedding environment look classy, attractive and simply out of this world. To have an unforgettable wedding day, it is essential to decorate the wedding aisle in an impressive way.
Decorating Arches for a Wedding

Bridal arches are very fashionable for indoor wedding reception decoration as well as outdoor weddings. You can beautify it yourself with the assistance of family and friends.
It is incredibly romantic to have your wedding ceremony under a brilliantly decorated arch. Wedding arches, decorated the proper way, can appear attractive and graceful. Flowers are one of the most frequently used items for decorating an arch, although, you can as well use branches, balloons, pinwheels, tulle, streamers, strings of twinkle, fairy lights and crystals to decorate an arch.