An increased number of men are starting to understand the importance of clothing and style and we can only be glad that this is happening. To meet gentlemen's fashion needs, Frugaa gathered a number of rules to bear in mind at all times if they want to be well dressed.
These rules are very welcome both for beginners in fashion and style, but also for those experienced because you know what they say, practice makes perfect. Some of you probably know the rules, while others will find out now and you'll know what to follow from now on.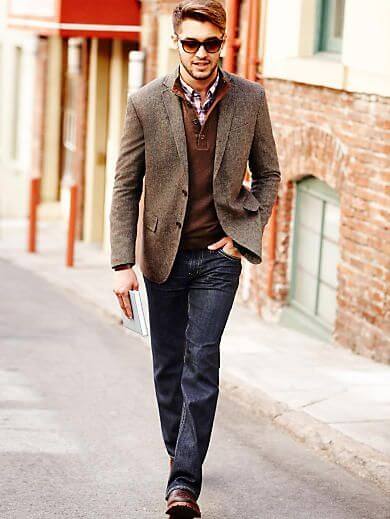 You should know that it is not only necessary to follow fashion trends in clothing style or copy a celebrity's style that has been labelled by critics as being well-dressed. Sure, it's important to follow the trends, to look in the magazines, but it is important to combine the trends with your personal style. There is a quote that defines exactly what we mean: "Fashion changes, but style remains eternal." So, below are few basic rules to remain classy and fashionable. Quite
1. Define Your Style
Before any fashion tip or trend, the most important thing is to define your own style. If you are not comfortable with what you wear or with the way you look, people will notice. What is in style this year might not suit you, which is why to combine the trends with your personal style.
2. How to Wear Shirts
When you choose to wear a shirt without tie, you should keep the top button open. Another rule to keep in mind is not to wear an undershirt, especially when the shirts are transparent. Whatever your style, you can try out everything from exciting streetwear to dark, gothic attire.
If you're looking for something that's a little more stylish and also tailored to the needs of your manly shape, then shirts for men come in. The shirts are not only functional pieces of clothing; they also allow you to express yourself through the way you dress. When you buy men's shirts, you can make a statement with style, charm, or class with little effort and accessory expenditure.
3. How to Wear Footwear
If it's one thing that women will notice, it's your shoes. Especially how clean and sharp they look. It's easy to wash and press the rest of your clothes to keep them looking new, but most guys disregard their shoes. Also, make sure you check which footwear will perfectly match your outfit and last but not least, match your socks with the colour of your footwear.
Avoid wearing white socks with dark coloured shoes. Under no circumstances, wear sneakers with suits! Sneakers should be worn only when you wear sport, casual outfit or a pair of shorts, for example. Socks with sandals? No way! I guess no you do not like what you see in the mirror when wearing this combination, do you?
Another good tip is to match your belt with your shoes, mainly you when wear a suit, but remember this rule even when wearing casual wear.
4. How to Wear a Suit:
When wearing a suit in one color, do not wear a shirt that has five colors. A suit in one color should be worn with a shirt in one color. And tie's model must be simple, discreet. Alternatively, you can blend a suit in one color with a striped shirt (stripes are a fashionable print).
But again, the tie must be in a single color combination. If you go to an evening event, wear a dark suit: dark blue or dark gray. Do not wear a pale suit at evening events. If you have a white shirt, it is perfect! Because this shirt is extremely versatile and fits with any color of the suit.
And the classic combination between a white shirt and black suit, is perfect! Never wear a jacket with sport pants! You can wear a jacket with a pair of black jeans for a casual flair. Another rule that you should not forget when it comes to wearing a suit is that shirt's cuff should be two centimeters longer than jacket's sleeve.
5. Pay Attention to Details;
The outfit you have decided to wear might look perfect on you, but you may also want to check if your tie is nicely knotted, your hairstyle or beard style suits you, if the scarf matches your outfit, etc. Last, but not least, you manners. No matter, how classy you might look, your manners will define you and your education.
6. Quality of Clothes
Quality plays an important role in your look and do not think that quality is always expensive. It is true that most of the brand clothes offer a top quality, it does not mean that they will always be the best choice or offer you the best product for your outfit. So, check more stores before you buy an item only because it wear a logo.
7. Size of Clothes
Men usually tend to wear large sizes which not always highlight their physical qualities and surely not making them look stylish. Therefore, make sure you buy sizes that will positively accentuate the shape of your body.