Finding the time for sex with your partner(s), can sometimes feel impossible with the stress and bustle of day-to-day life; it might become easy to dismiss, or forget about that once anticipated time, due to other commitments which can lead us to feeling disconnected from our partner(s).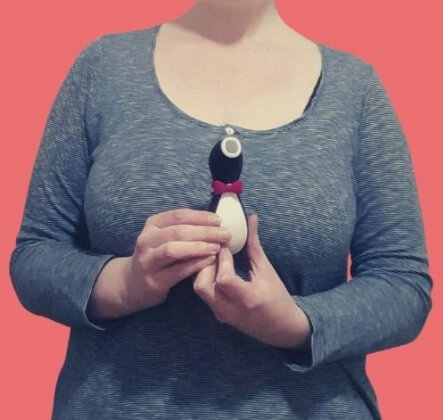 Sex can even start to feel like a 'chore' that we feel we have to make time for in order to keep the spark alive with a partner! However, this just misses the actual point of sex entirely- to have fun, experience pleasure, and connect with our partner(s).
Do these descriptions sound like you, or your partner(s)? If yes, don't worry! There are plenty of things out there to enhance intimacy and keep that desired spark alive…
If you're not sure about what to try first (or where to look!), it can be an exciting adventure to explore the possibility of using a sex toy, such as a vibrator, with your partner(s); yes, at first glance a vibrator may seem a little intimidating, especially if you've never used one before, but they can be a sure-fire way to spice up your partner play.
So, what exactly is a vibrator?
A vibrator usually consists of a toy with a motor inside, which stimulates the chosen body part, with vibrations; some toys have multiple speeds, patterns, and intensities.
Vibrators are one of the more common types of sex toy, as they are great for beginners, they can be very pleasurable, and are versatile in use; they come in all different shapes, sizes, and colors to suit all tastes.
Better sex with a vibrator is favorited among couples due to the non-intimidating look, and the sensations that they can add to sex!
How a vibrator could save your sex-life
There are many reasons that people enjoy using vibrators, and one of those reasons is the thrill of using one during partner play. A lot of partners incorporate vibrators into their sex life, as they want to experiment with different sensations, in order to keep the flame ignited!
If you have a vagina, a clitoris, or a G-spot, vibrators are great for helping to loosen up before penetrative sex, as they can increase your natural wetness, and relax the vaginal muscles; this also increases the intensity of orgasms! If you have a prostate, an anal vibrator (used with plenty of lube) which is specially designed for P-spot action can help you to relax before penetrative sex, add to your arousal, and give you extremely intense orgasms!
Types of vibrators to try during partner play
Once you begin to search for vibrators, you'll see that there are endless types to choose from- sometimes, it can feel like you're choosing from some sort of adult pick n mix!
There are some types of vibrators which are perfect for use with a partner though, so we've listed a few here, along with how they can add that desired spark:
A bullet vibrator is a great option for beginners; it's small, but mighty! Bullet vibrators are small, but powerful vibrators which are perfect for use during partner play; they can provide tantalizing clitoris stimulation during penetrative sex but they're also perfect for spicing up cunnilingus. Due to the size of the vibe, travelling is a breeze; sometimes just knowing that your partner is walking around with a mini vibrator in their bag, is enough to trigger impromptu sex for both of you!
The butterfly vibrator is a beautiful little secret, safely tucked away in your underwear; the design of the vibrator is perfect for stimulating the clitoris, and the vulva. These are great to use during penetrative sex as the vibrator sits comfortably over the top of the vulva, leaving the vagina free. Another reason that these are great for spicing up partner play, is they can be worn under clothes for secret thrills!
Classic vibrator– There are many shapes, sizes, and textures of this type of vibrator, which means there is almost certainly the perfect one out there for you! They usually have a non-phallic design, which makes these a good choice for those not attracted to the look/feel of a penis. Incorporating one of these into your sex-life, can be a simple yet life-changing idea; they're great for internal stimulation, and can also be used for clitoral stimulation- a warm-up, or a bit of teasing with a classic vibe, can go a long way to create earth shattering orgasms!
Dildo vibrator- A dildo vibrator could reignite that spark! With its phallic appearance, it's great for putting on a show for your partner, as well as trying some double penetration if you're up for it. This type of vibrator can be a non-threatening way to experiment with multiple partner play.
Clitoris vibrator- The clitoris contains 8,000 nerve endings, and if you have one, then why not take advantage? A clitoris vibrator does what it says on the tin! It can intensify orgasms, be used for some teasing foreplay, increase sensitivity, and intensify cunnilingus. Using one of these can be a really sexy show for your partner, as they watch you pleasure yourself. They are usually larger than bullet vibrators and more powerful; they're a great way to introduce clitoral pleasure into partner play and won't get in the way of anything else you're doing!
Finger vibrator- Let your partner tease you and bring you new heights of pleasure! A finger vibrator is great for partners who want to explore different sensations during sex; it can be used on the perineum, and the anus, or the vulva/vagina during sex with ease, as it slides onto the finger. This little miracle will enhance foreplay or tease your partner to the edge!
G/P spot vibrator- If you've not tried it yet, a G/P spot orgasm can be a game-changer for a sexual connection; communicating with each other while you find each other's sweet spot, is a perfect way to keep that sexual spark alive. By telling each other what feels good and what doesn't, you're building trust and learning about each other's bodies. This type of vibe can produce intense orgasms. Both types of vibrator are anatomically designed to stimulate the G/P spot.
Magic wand vibrator– These vibrators are perfect for partner play as they're non-anatomical, and not only are they a clitoris' idea of heaven, but they're also brilliant for sensual massages! You might want to try giving your partner an all over body massage with one of these, keeping their most sensitive places till the end to have them squirming.
Remote control/ app-controlled vibrator- For those who enjoy power play, a remote-controlled vibrator allows you to take control of your partner's pleasure. They're not just for people with vaginas either as prostate specific/ penis vibes are available, and ready to rock your world! Try having your partner wear one while you're out and about and controlling the vibrations they feel with the remote- you'll have them squirming and begging for release!
Vibrating strap on, harness-free- One of the best vibrators for couples, and a favorite amongst those looking to reconnect, pegging your partner with a strap-on can invoke a lot of trust, as well as communication. Some include internal vibrators for the wearer, while some are strictly strap-on- whatever you prefer! A strap-on can also be a great way to explore power play with a partner.
Anal vibrator– These vibes are usually slimmer for comfort, but also come in larger sizes for more advanced players. They are great for prostate stimulation, but can also require trust, and communication to use- especially if you are beginners. Try using one during sex, as this can majorly intensify orgasms!
So, these are a few types of vibrator that could reignite the flame in your sex-life; whatever you decide, be sure to remember that the goal is to have fun and connect with each other– oh, and use plenty of water-based lube!