You finally did it. After searching around for the best hookup sites you finally joined a few and now you are ready for some action.
You've scrolled through some profiles and you even sent out a few messages. Yet, for some reason, it's Friday night and once again it's just you and some pizza. What could possibly be going wrong?
By no means do I consider myself to be a psychic, but somehow something tells me that you need to up your messaging game.
"What messaging game?" you ask. Yes, just like in the real world you need to have a good talking game when you're trying to pick up women — so too do you need to have a good messaging game when you are trying to pick up women online.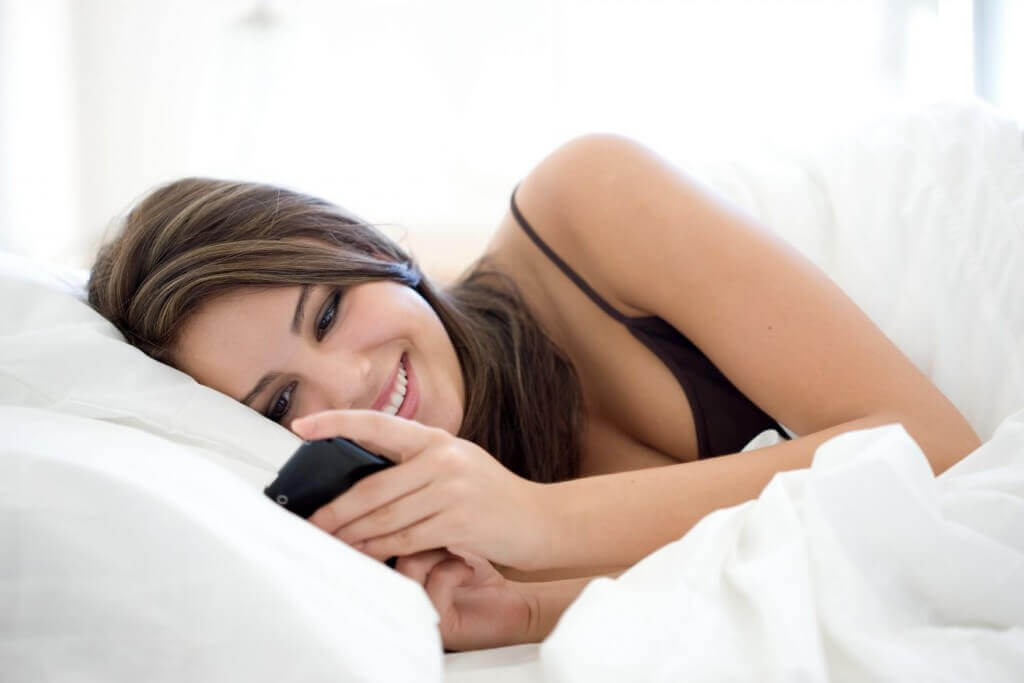 Before you start stressing out — take a deep breath — I have your back on this one. Here are some messages to send to women on hookup sites that will get you results. So, put that pizza down and start reading.
— Breaking the Ice —
You have to start somewhere. Ice breaking messages are some of the toughest. You want to be brief but memorable. You want to be witty but not sound cheesy. Here are some proven icebreakers.
"When I read your profile I just had to message you. Read mine and hopefully, I'll be worthy of a reply."
"Your inbox must be flooded with messages complimenting your strikingly beautiful eyes. I hate being unoriginal so all I have to say is, you have exquisite earlobes. If you get my quirkiness, I'll await your reply. If not, well, too bad for me."
Don't be afraid to use information obtained from their "about me" bios and profiles pics. Examples include:
"I notice you are a proud cat owner. I am too. Here's the million dollar question… lint roller or lint brush? I'm per-sonally fond of rollers."
"Having grown up in L.A. I never thought I'd be so excited about sending a message to a Giants fan. Anyway, here goes… hello"
— Suggesting a Face-to-Face —
After you managed to get an online conversation going and you've detected some chemistry, it's time to start transitioning from the cyber world to the real world. Here are some messages to suggest a face-to-face.
To use the following message send her a funny or awkward picture of yourself with a specific restaurant in the background. Exchange some words about how you came out in the pic and then send this message:
"Next time, tell you what, you take the picture. I'll even buy you dinner afterward at that sushi place in the back-ground. They have delicious dragon rolls. What do you say? Friday sound good?"
Another option is to make an innocent bet that you will purposefully lose and then…
"Okay, okay, you win. Now, where do you want to go for dinner so I can pay my debt?"
If you know of a specific activity that she enjoys, try the following:
"I've been thinking about how much fun you say cycling is. You won me over, I want to give it a shot. May I join you on your ride tomorrow? The post-ride bagels are on me."
"There is a great yoga instructor at my gym. What do you say, I'll get you a guest pass. After class, we can chat over a smoothie"
— When She Is Upfront About Wanting a Casual NSA on Her Profile —
On most of the best hookup sites, there will be some women that will be honest and upfront about their desire for a non-clingy, one-night NSA encounter. They require a different approach. There is less nuance involved. Messages tend to be more direct. You can leave your unassuming spiel at the door.
"I appreciate a woman that openly states what's she's after. I eagerly await your reply to chat more deeply about your unnamed desires"
"You mentioned you like older men. Well, I am definitely older and well-established. Shall we talk?"
"You called yourself 'older' in your profile. All I see is an alluring and lusciously beautiful woman. I'd love to explore what you're looking for, together"
"I am extremely attracted by your honesty and your beauty. I am looking to keep things casual too"
— What Not to Do —
Having an effective messaging game on hookup sites not only involves knowing what to say, but also what not to say.
You want to show off the positive aspects of your personality. Even if it's just for a casual hookup, no woman will want to go to bed with someone that sounds like a complete idiot. Also, women, especially if it's just a one-night thing, want a man who is confident about himself. For those reasons, the following messages should be AVOIDED:
"I know I'm not much to look at, but I promise I can show you a real good time"
"You should've seen me when I was younger"
"Hi," "Hey," "How are you?" and all of the other salutations that consist of four words or less. Remember, you want to elicit a response — get a rapport going. Just saying "hello" is not enough.
— It's More than Just the Site You Choose —
Joining the right hookup site is key, but if you don't back it up with an effective messaging strategy you are not going to see the results that you want. Fortunately, when online hookup sites are involved you have the ability to field test your messaging game as often as you want. Unlike the real world — where you would have to get dressed up and spend money going out to a singles bar to try out your pickup lines — with a hook-up site you can test out your messages anytime and anywhere. This holds true even at 3 a.m. while you're in your Darth Vader pajamas with dirty dishes piled high in your sink.
Feel free to use any of the examples from above, but also start working on your own unique set of messages. Even-tually, you'll develop your own messaging voice for your online hookup lifestyle.