Friendship is one of the best gifts you can ever get from lovely people and a real friend gladdens the heart, sending such friends a heart touching friendship messages can also help solidify your friendship.
When situation arises, it is true friends that can stand up with you and make your life easier. No wonder, they says "A friend in need is a friend indeed"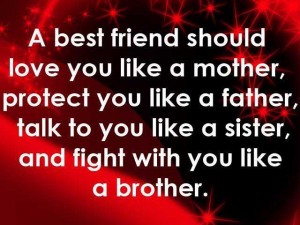 Though there are various degree of friends, some just only come into your life once while some too come into your life for life time, they are always there for you when you need them and it is important you show appreciation for their support with any of these best friendship inspirational text messages and surely, they too will be happy having you as one of their best friend.
Below are the collections of Heart Touching Friendship Messages for all your friends
Every single crowd always has one special person for us. Oftentimes we think there's none, but care to look around because somewhere behind the sea of faces, someone sees us in a very special way.
I'm your friend but God is your best friend. You can cry to me but God can dry your tears. I love you but God loves you deeper. You can hold my hand but God can carry you better.
Today, I whisper a prayer for a dear one like you, for the best of health, a great mood, wisdom, understanding and beautiful disposition as you face a new day! God bless!
Life is like an empty page for us to write on, but God is the ultimate editor who corrects and approves it. May God favour your life as the best one written every day. Good morning!
There is always one thing to be thankful for every morning. That is being able to open our eyes and see the beauty of being alive under God's grace. Good morning!
Though we don't meet or talk often, I never forget that I have you in my life. Somewhere, somehow, I remember you. Still bear in mind, I'm always here, not so near but never that far.
Sometimes, God pushes us to our limits; He tests us beyond our endurance, because He has greater faith in us than we have in ourselves. Good night!
God has a reason for allowing things to happen, we may never understand His wisdom but we simply have to trust His will. Good evening!
With special thoughts and wishes that God will richly bless you heart, your home and those you love with lasting happiness and God's graces as always. Good evening!
Prayer is my gift for you every day. That you will be fine, protected and have the strength to cope with all the pressures and stress of the day.
Our night's rest is God's way of saying: "Leave everything to me, you've done your part, let me do mine and I will take care of you." Good night!
Let everyday be a dream you can touch. Let everyday be a love you can feel. Let everyday be a reason to live. Because God made life indeed beautiful. Good morning!
Good people are like the wind, you can't see what's inside their hearts but you can always feel their goodness and sincerity. Good morning! God bless.
If you missed the beautiful sunrise God made this morning, it's ok. All you need to do is to face a mirror and see a more beautiful creation of God.
A beautiful life does not just happen. It is built daily by prayer, humility, sacrifice and love. May the beautiful life be yours always. Good Morning!
8 rules to be happy: 1. never hate. 2. don't worry. 3. live simply. 4. expect a little. 5. give a lot. 6. always smile. 7. stay in love. 8. best of all, eat all you can!
It doesn't take seeing someone to know and feel that they are there. You don't have to see me, to know that I'm here. You just have to trust that I'll be there when you need me. I'll always be here
Though we've been apart, our friendship is still very important to me. We may not be able to share the day-to-day things anymore, but we've shared memories that distance cannot erase.
I hope you find these heart touching friendship messages helpful, should you need more of it? Please them at the related or you may also like this below. I'm sure you will find more than you even need here and start sending friendship messages right away. Please show appreciation too by just giving my Facebook Fan Page a like. Thank you as you do that.