Women have different type of body shapes and every woman is beautiful and unique in her own way.
The most important thing to keep in mind when thinking or talking clothes is that you need to create a fashion style for yourself that suits your body shape and size and stick to it and I promise you, you will never get stuck.
Fashion experts classify women body shapes into various categories. There are four different women body shapes.
They are: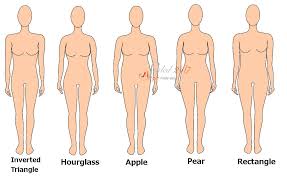 Pear Shaped women
Pear Shaped women are those with larger lower bodies and small upper bodies. If your hip measurement is significantly larger than your burst measurement, then you are pear shaped.
But choosing your clothes is easy. Just go for fuller tops that probably add volume to your upper body and skirts that do justice to your lower body. Depending on your size also, you might want to be careful to choose the right kind of outfits for your size and create a unique style for yourself.
Apple Shaped women
Women with apple body shapes are those who have larger upper bodies and smaller lower bodies. These women have large busts but small hips.
Once you come to terms with the shape of your body and have decided to create a style unique only to you, then you would never worry about what fits you or what doesn't because you know exactly what does and you will stick to it and also save yourself the stress of trying to fit into everything in trend.
Apple women body shapes are better off in clothes that are not too tight since tight clothing would only draw attention to their breasts. Also, dresses with under the bust cut should be avoided.
But then, a simple top with little detail on a more detailed skirt would draw the focus away from your upper body. Also avoid wearing padded clothes as they only add more volume to your upper parts.
Slim fitted dresses would make your shape more pronounced and attract too much attention to the larger parts of your body so just go for simple dresses with little details and fuller skirts. It does the trick all the time.
Ruler Shaped women
Ruler Shaped women are the very thin ones, almost straight with no significant difference between their hip measurements, waist measurements and bust measurements. Women in this category would look fantastic in full clothes, dresses with well detailed top and bottom.
This will take the focus off your body and draw it to your clothes. And if you are the tall one, you will look exquisite in a long dress. If you want to go for slim clothes, just make sure you have some details on them and it would all be perfect.
Hourglass Shaped women
Hourglass women body shapes are referred to as a" figure 8". Women with this type of body shape have well-proportioned upper and lower bodies and have a narrow waist.
If the difference between your burst measurement and hip measurement is minimal and your waist measurement is relatively small compared to that, then you belong in this group and you would naturally look fabulous in anything.
Depending on your size though, you might want to be careful in picking out your clothes and creating a style for yourself.
Small sized women in this category would look good in tight fitted clothes but if you are a big size, then you might want to make it just a tiny bit free.
Complement your body shapes dressing with a pair of shoe
Now, whatever you are wearing, the one thing that always compliments your clothes and that you can't do without is a pair of good shoes to go.
Mix and match all the clothes you like but without a good pair of shoes, you are not close to achieving that stunning look.
Thus, when mixing, matching your clothes and trying to create a style for yourself, don't leave your shoes out. And just as your body shape and size determine the clothes you wear, so do they determine your shoes.
For example, if you are a short woman, you probably would look better in high heels because they make you look taller and add some sophistication to your overall outfit.
Also, your clothes determine your shoes because your shoes have to complement your clothes. High heels look nice when worn on a short skirt, they make your legs look longer and definitely make you look more attractive and if you are plus size, wearing high heels will definitely make you look trim.
Finally, when all has been said and done, you need to find a nice looking handbag to complete you dressing. Because, you know what! Your dressing is not complete without your handbag or at least your purse.