Who says romance had to be expensive? 
Whether you're celebrating an anniversary or are just looking for ways to spice up your Friday nights with your significant other, one of the most romantic ways you could show your love and affection is to spend quality time together over a romantic dinner for two.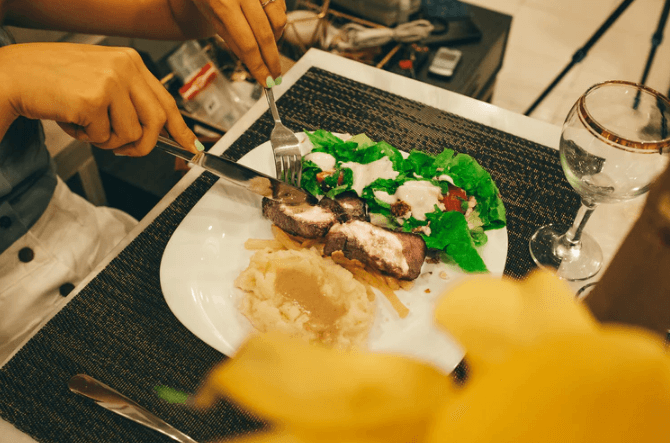 Of course, you could go to your favorite fancy restaurant, but there's something more special about cooking dinner yourself — or better yet, together! 
Here are 5 simple dinner ideas you can make at home for a cozy romantic evening. 
1. Cheesy Chicken Parmigiana
Cheese is probably not the first thing that comes to mind when you think of a romantic, sexy night with your partner. But give it a chance and you'll realize just how sexy cheese can be — especially when paired with plump chicken breasts and a savory tomato sauce.

For this Cheesy Chicken Parmigiana recipe from Taste of Home, you're going to need Mozarella, grated Parmesan cheese, chicken breasts, tomato sauce, Italian seasoning, large egg, garlic powder, seasoned bread crumbs, olive oil, and fresh basil leaves (optional).
2. Herbes de Provence Shrimp with Basil and Pea Couscous
Shrimp is an ideal main dish if you're looking for something fast and easy to cook. It's history is both entertaining and inspiring. The famed French mistress Madame DuBarry served her shrimp in Champagne sauce. Agnolo Torredano called it the, "food of life that makes it possible for this cold, old body to still enjoy the heat of passion."
With this recipe from Country Living, you'll need couscous, green peas, fresh basil, chopped, lemon zest and lemon juice, olive oil, Kosher salt and freshly ground pepper, large shrimp (peeled and deveined), fresh thyme, fresh rosemary, marjoram, oregano, or savory, (chopped), dried lavender, and fresh tarragon.
3. Cast-Iron Skillet Steak

It can be a little intimidating to cook steak at home, especially if it's your first time. The secret is finding the right meat to cook with. Carnivore Style has a detailed review of top 10 best meat subscription boxes for 2021.

Once you're done with choosing your meat, it's time to consider cookware. If you don't have a cast-iron skillet to work with, a trusty non-stick pan will work just as good. You'll want to get the pan sufficiently hot before putting in your steak. After both sides of the steak are seared, turn down the temperature for a medium or well-done steak.
4. Homemade Fetuccine Alfredo 
This is another easy-to-make dish that will undoubtedly make your significant other's mouth water. It only takes 30 minutes to cook and prepare, and the ingredients aren't that difficult to find.

You will need uncooked fettuccine, butter, heavy whipping cream, grated Parmesan, grated Romano cheese, large egg yolk, salt, ground pepper and nutmeg, and fresh parsley. 
5. Cranberry Short Ribs
These glistening, red fruits are packed with nutrients that are beneficial to sexual health. Turn them into a sweet sauce and pair that with a set of beef short ribs, and you have yourself a fancy, romantic main dish. All you'll need are beef short ribs, salt, pepper, all-purpose flour, brown sugar, ground mustard and cloves, cider vinegar, cranberries (of course), lemon zest, and water. 
If you aren't sure how to choose the best beef short ribs to use in your dish, see this page for the most useful guides a meat lover could ever need. 
BONUS TIP:
It can be a challenge to make your usual dinner table look romantic and special. So, dress up a little! Even a simple shirt — something you don't often wear — can make all the difference when you're trying to set the mood. Then put on some romantic music and light a couple of candles. 
Enjoy your romantic night in!