How often is it that the kids are away, both you and your spouse are home, and you both actually have the free time to enjoy a meal together? Probably not very often and this is why you should take advantage of the time to indulge in a romantic meal.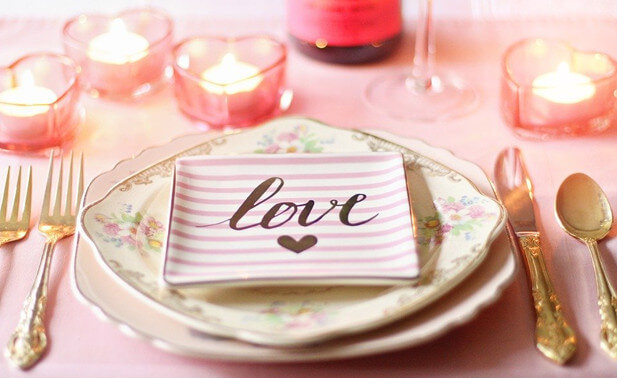 Maybe you don't know where to begin. Well, don't start by panicking. This is not the way to get things started and you'd be surprised just how many easy, quick, and affordable romantic meal ideas there are out there.
Choosing The Right Drinks
Before you learn all about romantic foods and dinner ideas, you need to learn about foods. A romantic meal simply would not be complete without the right drinks. While most people would just opt for a bottle of wine, this might not always be the best route.
In fact, the drinks that you choose are really going to depend on the food that you are serving. For instance, a good, hearty steak dinner should be paired with an earthy red wine. A chicken, on the other hand, goes hand in hand with a crisp, chilled white wine.
Whatever your decision is, make sure you have a bucket of ice and bottle opener handy. And, if your not the drinking type that's okay too. Just make sure that you pick up something fruity and fizzy to go along with your perfectly planned meal.
Instant Pot Spaghetti Bolognese
When it comes to romantic dinner meals it is hard to beat a dish like the instant pot spaghetti bolognese. You won't even have to get your kitchen dirty because this entire delectable dish can be prepared right in your instant pot. And, one of the best parts is that it only takes about 30 minutes or less to prepare and cook.
This is, of course, if you have all the ingredients on hand. A trip to the store and you'll be looking at a bit more time. That aside, this is a pasta dish that comes straight from Italy and the city of Bologna, hence the name.
It is the meat sauce that makes the meal stand out, which is a mixture of ground meat, chopped tomatoes, and simple, but effective seasonings. You can get the recipe and more information about the dish if you choose to visit the link above.
Don't Forget The Setting
You've likely spent a great deal of your time scrambling and running around trying to find the right romantic recipe. However, you should never forget about the setting as well.
You've already got the drinks and the meal, but without the right setting, you won't have the entire package. And, and your mate deserves the entire package.
You'll want to look for some mood lighting, scented candles, flowers, shiny silverware, and some good, romantic music to go along with the mood.
While your meal is cooking in your crockpot, you can take the time to jump in the tub and pamper yourself with a bubble bath before hopping back out and throwing on your dinner attire.