You might have heard about Porto's Bakery & Café from a satisfied customer or read some online reviews about it. The California bakery is known for its legendary crisp potato balls, Cuban sandwiches, guava strudels, croquettes and… spectacular event cakes. Walk-in customers can sample the desserts and choose Porto's as their wedding cake supplier if they find one they like.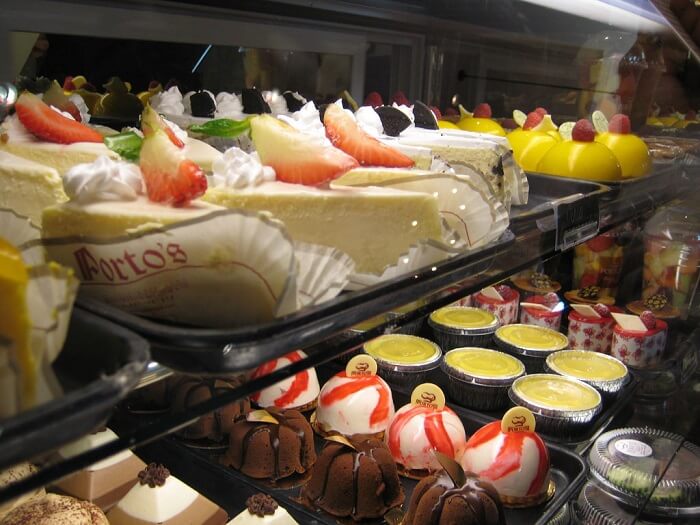 Porto's comes with unique designs, unique flavors, and an impressive story. The shop was opened in the 1960s by a Cuban woman who wanted to impress California with a special bakery. Now, Rosa Porto is the retired idol of more than 1,200 employees. In California, Porto's has locations in Glendale, Buena Park, Downey, and Burbank.
Even though Porto's is specialized in Cuban goodies, many customers are drawn to its impressively large but budget-friendly cakes. The thousands of satisfied customers who enjoyed its cakes containing imported chocolate, liquors, and fresh exotic fruit, have given Porto's an aura of reliability.
The Prices are Convenient
If you are planning your wedding and want to handle the cake concern yourself, there's much work to be done. You will need to research, visit fairs, and ask for opinions first. However, the easiest way to narrow down your options is to consider your budget.
Porto's ready-made cakes cost around $17 – $150. Additionally, you can order wedding designs and accessories that can fit into your budget. Customers often say that prices are convenient despite Porto's fame. Bakeries' budgets are difficult to understand since they have a base price and add extra charges for special icings and decorations.
Moreover, a cake's size influences its price too. So, beside the bakery's website, you will need to do extra research on cake prices for specific occasions such as birthdays, weddings, graduations, or baby showers. Fortunately, there are a handful of dedicated websites out there that can help you take an informed decision based on price. For instance, you can check CakesPrice.com to learn more about Porto's wedding cakes and pricing.
Porto's Wedding Cake Specialists Ease Your Work
Porto's Bakery & Café has trained its employers to see each client as an independent project and:
Show them available options within their budget;
Present creative ways to work with small budgets for impressive outcomes;
Show creative alternatives to print duplicates which are hard to reproduce;
Help clients leave their personal mark on the cake.
Since everything starts with sampling, you can schedule a session with Porto's wedding cake specialists. The options that are available every day are also the most popular products:
White cakes – strawberry cream fillings – buttercream icings;
Red velvet cake – cream cheese buttercream filling – similar icing;
Chocolate cake – chocolate whipped filling – buttercream icing;
Cuban cake – custard and pineapple filling – merengue icing.
Porto's Reliability Is Reflected by Their Fame
In 2016, Yelp named Porto's the best restaurant in the US. The title was given based on the many positive customer reviews of the bakery's original location in Burbank, CA. Clients also showered the bakery with positive reviews on other websites for their event cakes' prices, looks, and taste.
According to various customer comments, the bakery's wedding cake specialists design the cake if the client lacks any specific ideas. There's a connection of trust between them and their customers which forms at the beginning of the project. When some customers complained about being overcharged because of expensive cake trays, Porto's allowed them to purchase the trays independently.
They Can Deliver Your Cake to Your Venue
As a wedding cake supplier, Porto's delivers occasionally. The service is only available to customers who live within 100 miles of its Glendale location. Delivery charges go around $1 to $3 per mile. You can order basic cakes 24 hours ahead of the event or two months in advance for custom options. Even though you can order basic cakes over the phone, you should have at least one in-person meeting with the bakery's specialists.
Here are some other details you might be interested in:
You can pay cash or with a debit or credit card. Payment must be made one month before the event. Additionally, you can cancel orders for non-customized items within 24 hours of the placement. Any cancellation needs a minimum 72-hour prior notice.
All orders require a minimum 50% initial deposit.
The business is family-owned and operated. It doesn't offer franchise programs. Also, it doesn't plan to open new locations soon for the sake of its products' quality.
The Glendale bakery offers an express CAKE ONLY line to prevent customers from standing in a line.
The Glendale location also sells plates and party supplies and utensils you can check out in the Cake Gallery (second floor). The best time to visit Porto's is from Monday to Thursday, 2:30 PM – 4:30 PM.
Conclusion
A major event involves a wedding cake supplier. A wedding will require a two- or three-tier dessert. As a bride, you won't have the time and resources to bake an impressive cake on your own.
Even if you find a more convenient offer somewhere else, working with professionals will help you avoid low-quality products and grumpy guests that didn't enjoy the cake. Fortunately, Porto's is here to help. It will offer you a wedding cake with a delicious flavor, impressive design, party accessories, while keeping things extra friendly to your budget!