The first dates are always among the most challenging hurdles to cross. When you go on a date with someone for the first time, things can often turn awkward, both for you and your partner. But there's no denying that the future of your relationship depends a lot on your first date. You can't underestimate the value of the first impression.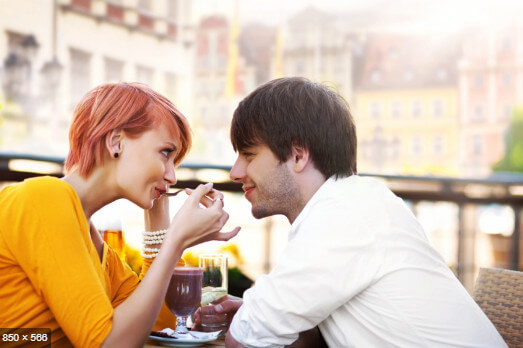 To ensure that your first date doesn't become your only date with that person, and you make it a smooth, memorable experience, we are listing out some interesting topics of conversation that you can talk about. After all, everyone deserves a beautiful date.
Interesting Topics of Conversations on a First Date
We all could use some help when it comes to dating. Using these following topics while talking to your date will help you in making the conversation organic and fluid. On the other hand, if you need further assistance in perfecting your relationship, platforms such as Dating Blush do the same by dishing out useful dating tips.
Don't Shy Away From Expressing Your Nervousness
Let's admit it! Meeting someone for the first time on a date can be intimidating. Even if you were hoping for this moment to come true, it is absolutely natural to have nervous jitters when the date actually plays out.
The chances are high that your date is also nervous about meeting you for the first time. So, take the first step and break the ice by stating that you are nervous. This will not only make you honest in her eyes, but she will also feel relaxed, in case she is nervous too.
Ask About Her Childhood
Too many people make the classic mistake of asking about previous dating experience. Well, a smart idea is to focus on how your date grew up. Ask her about some of her favourite childhood memories, her school, friends, etc. You can also ask whether she is in touch with her old friends or not
Then, you can proceed to talk about how you were as a kid. If you have any funny prank stories, be sure to tell her. Talking about childhood can bring up nostalgic memories. This would make her feel that you are not only attracted to her outer beauty, but you're also interested in knowing her inside out.  
Be Surprising
Being too predictable can be boring. So, to keep your date exciting, tell her something that she wouldn't guess about you. For instance, if you are an engineer and you have an interest in, let's say, Latin American dance, it might be a good idea to bring up the topic on your date.
Knowing that you are an engineer, this would come across as a pleasant surprise to her.  It doesn't have to be too dramatic. A simple, sweet, and weird habit of yours or a story from your past can bring a chuckle to her face.
It would also compel her to be more comfortable with you, and she might share her stories as well. Please keep in mind not to be judgemental if she expresses something a bit unconventional for you.
Bucket List
All of us have our own bucket list – a list of dreams that we want to achieve in our life. Bring this up in your conversation since it can be a great way to let her know a lot about your dreams.
Similarly, you will also get to know a lot about her, and maybe you will find some common activities or goals in your bucket list. Wouldn't that be exciting? Then, both of you can discuss when and how you want to achieve them. Talking about each other's bucket list can bring a fun dimension to your conversation.
Loved Ones
You can understand a lot about a person by getting to know who is the most loved one in his or her life.
Talking about loved ones also showcase your vulnerable self. So, let your date know about the people in your life that matter to you the most. They could be anyone – your parent, siblings, cousins, aunt, uncle, best friend, nephew, niece, or even a colleague or mentor. You don't have to go into super detail which she might not understand due to lack of context. Just mention about them on a surface level.
Also, ask her about the same to get a sneak-peek in her life.
Vacation
Choices of vacation define a lot about your personality. So, this means that when you initiate a conversation about where you like to travel, you will allow your date to know more about you.
Find common ground between you two. See what you like – mountains, beaches, or forests. Ask her whether she loves small-budget or expensive vacations and what time of the year she prefers travelling.
Life Goals
You can bring up professional discussions in a casual manner. So, ask your date what she does and whether she loves her job or not. Show interest in knowing about her life goals, but don't sound like a career counsellor.
Remember, you are here on a date. You aren't interviewing the girl; you're just trying to know her a bit more. One major mistake people often make is asking about salary. This is a strict no-no!
You may also share your own life goals and how you plan to achieve them. This topic is essential, but make sure not to dwell on it so much.
Bonus Tip – What Not to Talk About on the First Date?
Well, now that you know the topics that you should bring up to have a fluid conversation with your date, let us tell you the topics you need to beware of.
Try to avoid discussing religion and politics. Both these topics can be contentious and can make you appear as one-dimensional. Most people are often rigid about their religious and political choices.
You can bring up these topics after spending a few weeks with her.
In case your date brings it up, try to play it light and casual. If your opinions are not the same as her, then don't be judgemental.
After Thoughts
Be your natural self, and don't pretend to appear cooler or smarter than you are. It never really works. Be confident in who you are because façade will eventually wash away, but your natural personality will always be there with you. We hope these topics would help you have a meaningful conversation with your potential date.
When you have these structural points in mind, you will be able to avoid those awkward moments of silence without rehearsing for it beforehand.