Determining the wedding photography style that suits you best is the first step to deciding how the final outcome of your wedding pictures will look like. The style of wedding photography you choose must also be born in mind when making a choice of photographer.
The photographer you choose must be experienced and professional in your chosen style. He or she must have fleets of portfolios to show that he would not fail. This is crucial because, you would only get the true effect and feel of his work after the wedding and any mistake made cannot be undone.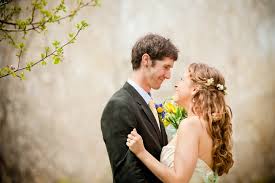 A test of wedding photography style shoots
It may also be a good idea if you get the photographer to shoot you prior to your wedding so as to have a tangible sample of his or her work. Discuss these options with your prospective photographers. Only make your final decision when you have gathered enough evidence to show you are confident in the work of your chosen professional photographer or videographer.
Conventional or Light-hearted wedding photography style shoots
Are you serious and traditional, or do you prefer a more light-hearted and playful theme to your wedding photographs? Are you looking for a traditional approach with mostly posed images? Or do you prefer lots of candid shots in which the subject may not even know he or she is being photographed? Do you like the glamour approach of fashion photography? Would you prefer a photographer who combines all of these styles?
One style or a combination of two or more wedding photography styles
Because one size doesn't fit all, some couples hire a photographer proficient in several styles. Some go as far as to hire two different photographers, essentially doubling the photography budget but getting the best of both worlds. I used two main photographers for my wedding and it worked well. But whether using the services of one or more, there are important things to look out for in order to get the best out of your wedding pictures.
There are lots of technicalities when it comes to modern day photography that you need not bother yourself with. But here are some important terms you should know and be familiar with:
Portraits wedding photography style
These are posed photos of the bride, groom, bridal party, parents, and any relatives you want to include. They are the more formal, traditional photos and should be done in good lighting.
Fashion wedding photography style
This genre of photography is increasingly becoming more popular. It is focused around displaying clothing and other fashion items for commercial purposes. These techniques include the usage of unique off camera lighting with fashionable poses and expressions, along with photo backdrops
Candid wedding photography style
Pictures of your guests mingling, munching, and gisting will bring the most joy and laughter. They are valued for their spontaneous looks. I knew certain pictures I had to get before my wedding. The coming and goings, the dancing, the pictures of family, people having fun – there are a whole lot but you need to have a plan.
Sepia wedding photography style
These are brown tones that give black-and-white photos an antique look. It can be achieved with a digital camera or editing software. They are usually very classy to look at.
Documentary type of wedding photography style
You'll very rarely see people staring at the camera in such photos. They are spontaneous pictures of people, decor and the action which altogether tell a story. A good photographer will capture various events and happenings exactly as they happened.