There is one part of the body a woman does not joke with and that is her hair. The wedding hair style of a woman not only beautifies her but adorns her look. On a normal ordinary day, every lady pays particular attention to how her hair looks so just imagine the preparation she would put in to ensure that she has the perfect hair do on her wedding day. One thing I have noticed is that some women get confused over the style of hair to make for their wedding day. Should it be long or short, full or scanty? What colour of hair extension should you use? How long or short should it be? How expensive does it have to be? Well, whatever the case may be; you need to know what you want and how you want it so you do not get frustrated.
In this article, you will discover some hair styles you can make for your wedding day. This will help reduce the frustration you might be having.
In the fashion world, there are lots of hair styles a soon to be bride can make for her wedding and they are:
Wedding hair style pick:
Long curly hair style: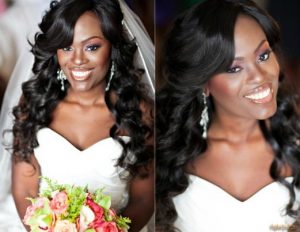 This wedding hair style is simply gorgeous. It's length and big curly waves would make any bride look smashing on her wedding day. This wedding hair style is ideal for any lady who loves long hair lengths and probably wants it to fall on her shoulders. It is suitable for any shape of the face be it round, oval, oblong, pear etc.
Short curly one sided hair style: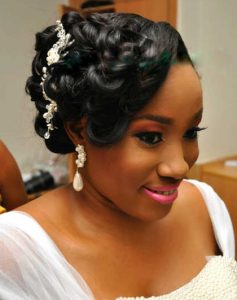 This wedding hair style is so beautiful. Aside the full curls it has, the way it is packed to one side of her face gives it a unique look. You can also accompany this hair style with hair accessories for a more attractive look.
Centre part all back hair style: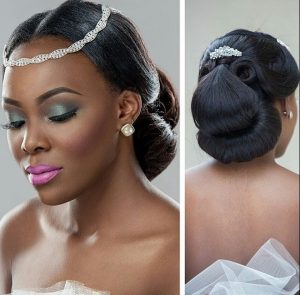 If you're looking to go for a very simple look, this wedding hair style is just for you. It is simple and nice. I like the way it is packed at the back. It's packing gives it a cool look from behind.
Side part hair style: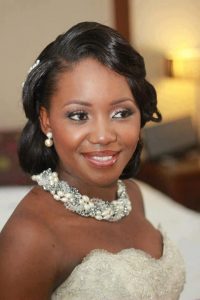 If you want a natural look, you can decide to go with this wedding hair style. It does look like her own hair which is styled well although there are real hair extensions that can also give you this same look.
Tiny Braids: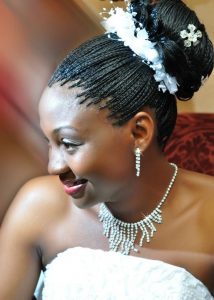 Do you know that some ladies would rather go for braids than fix their hair? This wedding hair style is so in vogue.
Parking gel hair style:
This is the parking gel hair style as you can see how it is packed in the middle and adorned with an accessory. It is simple, elegant and classy.
This wedding hair style is so fine. It is styled in a way that it has a front part and the back is styled like a bulb shape.
Loose braids:
You can equally go for loose braids and just pack it in the middle like a donut. Are you aware that braids can also be styled into the type of hair design you want? Apart from parking it, you can just let it fall on your shoulders.
Part weaving part weavon: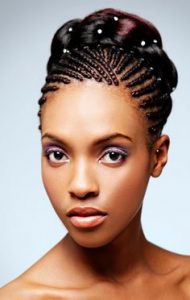 Do you know that you can combine both weaving and using hair extension? This wedding hair style shows you just that. It's so cute.
I can go on and on since one can never run out of hair styles to make. As time goes on, more styles come into play so it all depends on what you want and the taste you have. All brides look beautiful on their wedding day but to be exceptional on that day, go for the wedding hair style that suits your face size.
Have you decided upon which of these styles you would pick? Let us know.