Wedding dresses can range from sleek and simple to grand and elaborate, depending on your personal taste and the statement you want to make on your big day. There are five basic wedding dress styles. All are beautiful, but choosing the right one can accentuate your best assets and hide any areas you're more conscious of.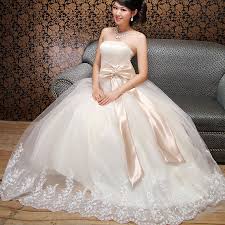 A-Line/ Princess Line Dress
This wedding dress style is classic and simple. The A-line dress is fitted around the bodice and flows out to the ground. It hugs the waist, so it creates a slimmer waistline and flatters the bust.
Empire Gown wedding dress styles
An empire-style bridal gown features a high waistline (right under the bust), falling to a slimmer (yet not body-fitting) skirt. This style is usually paired with a square neckline and wide set straps or sleeves.
Column/Sheath
The column wedding dress style has a narrow shape that flows straight down from the top to the bottom. The slim sheath closely follows the line of the body, creating a form-fitting look.
Ball Gown
The ball gown is characterized by a fitted bodice and a waistline leading to a very full skirt that can either be one piece or separate. This dress is perfect for big, traditional weddings.
Mermaid
This cut is a very sexy look that highlights a woman's curves. Also known as hourglass or figure-hugging, the mermaid shape is tightly fitted to the body and flares out from mid thigh or knee.
Body Type
Choosing a wedding dress style that suits your body shape is absolutely crucial. The key to finding a gorgeous wedding gown is to choose a dress that's made for your body shape—one that flatters every curve and plays up your best assets.
Here are the different body types and wedding dress styles of gowns that would flatter each body type.
Rectangle
You are a rectangle if shoulders and hips are about the same width and you don't have a lot of waist definition. Create the illusion of curves by drawing attention upwards (strapless, v-neck, one shoulder) or towards the hem (Mermaid).  An empire waist will showcase the smallest part of your torso. Or a beaded detail or colored sash around the natural waistline will create definition.
Avoid halter and high neck gowns. It will make your shoulders look narrow and as a result will not flatter your waist. Sheaths will make you look boxy.
Apple
If you've got a full chest, narrow hips, a thick waist and slim thighs and legs, you're a circle (or apple) shape. Use lower/plunging necklines to draw attention upwards. V-neck and sweetheart necklines are great options. Elongate your silhouette with a high waistline and a skirt that flows away from the body. Empire waistlines and A-line silhouettes are best for this. Avoid Mermaid wedding dress styles and Trumpet gowns. It will accentuate the widest part of your frame and flare at the slimmest.
Busty
If you're busty, look for a dress with a scooped neckline. It will open up your face and display your neck without showing too much cleavage. If you love the look of strapless gowns, choose one that has a slight dip along the neckline, like a sweetheart, rather than a style that goes straight across which will make your bust appear even larger and more shelf-like.
Pear
You are a pear if you are thinner on top with more curves/fullness on the bottom half. If you're pear shaped, look for A skirt that gradually flares out in an A formation from the natural waist to the floor, highlighting the narrowness of the midsection and floating away from the hips and thighs. Create balance for your shape by putting the attention on your upper half. Great options are one shoulder, strapless, v-neck, bateau or scoop necklines. Reduce attention your bottom half with ballgown or A-line silhouettes.
Plus-Sized
If you're plus-sized, look for an Empire dress with a skirt that begins just under the bust and flows into a gradual floor-length A-line. Make sure the Empire seam does not start on the chest and that there is no pleating of the fabric, which is reminiscent of maternity wear.
Hour Glass
You are an hourglass if your shoulders and hips are about the same width and you have a well-defined waist. Play up your great figure by choosing a dress that celebrates your sexy curves. Sheath, Mermaid and Trumpet will especially flatter you. Stay away from Empire waists, they won't showcase your slim waistline.