One thing women love most about their wedding day is their wedding outfit. Every woman wants to look her best on that day to impress not just herself but guests and most especially her husband to be. Some women don't even allow their spouse see their wedding gown until that special day. This is why a deep thought has to go into selecting the perfect style for you. You are aware that there are lots of wedding gowns with varied designs and styles. It sometimes gets so confusing when shopping for a wedding gown as majority of them look extremely beautiful. Knowing what you want is the key to finally choosing the style you want and ensuring that it suits your figure.
Do you sometimes wonder why some women look funny in their wedding gowns? Its either some parts of the gown doesn't fit or it just looks out of place. Its simply because they didn't choose the right wedding dress style that suits them well.
Before choosing a style, you should ask yourself the following:
Does this style accentuate your shape?
Is it a perfect fit for your body?
Do you feel comfortable in it?
Do you go for a short or long one?
What colour of wedding dress should you use?
Do you want sleeves on your wedding dress or no sleeves at all?
Do you want a skirt that is full or scanty?
What particular style of dress do you want?
Some wedding dress styles are:
Ball gown style:
This wedding dress style will suit those who have always dreamt of looking like a princess on their wedding day. The beauty about this style is that the bottom part of the dress that looks like a skirt is designed in a way to look bulky so that it's fitting can show. That is what gives it it's ball like shape. So if you want to look like cinderella on your wedding day, this dress is ideal for you.
The A-line style:
For this wedding dress style, the skirt part of it is not as bulky and full as the ball gown style and it is ideal for all body shapes.
The empire style:
I wonder why this gown is tagged as "empire." I now see why; it's because of its long flowing nature. This wedding dress style is suitable for those who have a big stomach. It is designed in a way that it falls freely from the bust downwards giving it a feminine look and feel.
The Mermaid Style:
Like it's name suggests, this style is like that of a fish. Now, if you've got great curves and you want your guests to appreciate your beauty then go with this style. This dress style is designed to add glamour to your figure. I can't imagine how breath taking you'll look and I am very sure your spouse won't be able to take his eyes off you.
The column looking style:
This wedding dress style is ideal for ladies who are tall in height. It's beauty lies in the fact that it adds features to your height by making you look even taller. So if you're slim and pretty tall, this wedding dress is for you.
The tea length wedding dress style: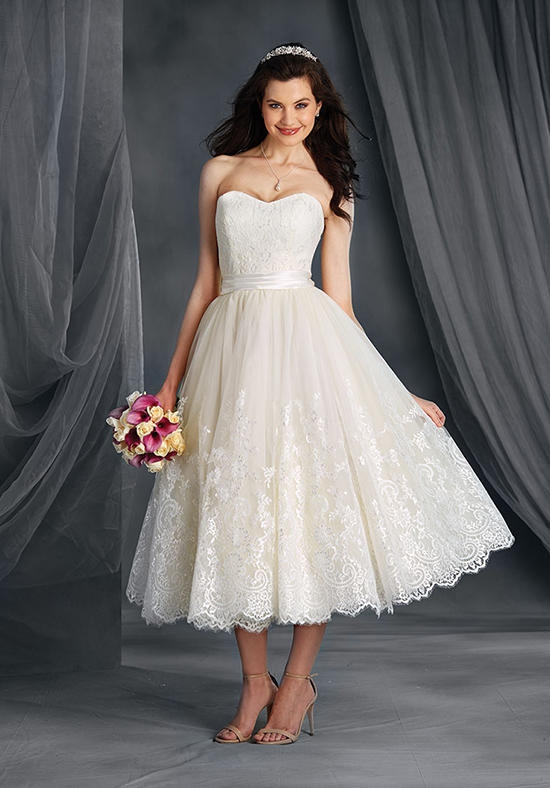 This wedding dress is suitable for any body shape as it falls just a little below the knee.
From all these, you can see that you have lots of choices to make. But remember that in order to look really outstanding on that day, ensure you choose the right wedding dress style. Do not forget that if you make use of an ill -fitting wedding dress, you will always have your wedding pictures to remind you of that.
Do you now have an idea of what you want and are you now ready to go shopping for that ideal wedding dress? Have fun doing that.