There is a range of mobility aid and walking assistance devices designed for helping elderly individuals with movement issues. The chances of falling increase as a person grows older that poses a danger to their health.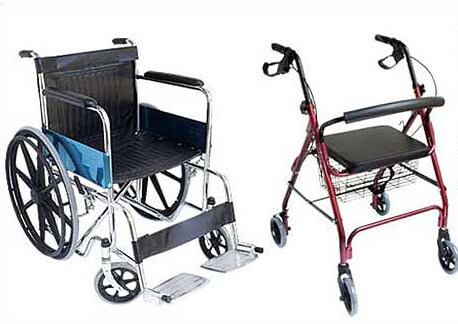 Hence, it is worthwhile looking at a variety of walking aids you find in the market. They not only provide support but ensure safety at the same time.
Since there are multiple walking devices and mobility aids available, you have to be cautious to select the one that suits your requirement. It is hard to deduce which one is the best option. The industry provides you with simple aids like a walking stick, crutches, rollators, walkers, knee scooters, and much more. Hence, it is intimidating when you first research these devices.
Canes are the standard ones
Coming to the most common category of walking aid are canes. When a person approaches their 70s, their balance starts faltering, becoming prone to falling. These portable devices help to ensure balance and come in standard lengths. Thus, they are ideal for different heights. They can also get adjusted as per the user's requirement. These non-intrusive devices allow an individual a level of independence along with balance. They have similarities with crutches; canes support the body weight and ease the pressure on wrists and hands.
People know about crutches
Similar to canes, crutches transfer weight from the legs to the upper part of the body. They are used in pairs commonly among elderly individuals. You can use this temporarily as your walking device following a leg injury. However, it is not a good option for long-term use.
Walkers or frames
Walkers come with metal frames and four legs with wheels on the front legs to ease forward movement. You have different categories of walkers, including rollator-walkers and two-wheel walkers. These devices furnish more balance and support than crutches and canes, and it helps the person with excellent stability while maintaining independence. Although the size is larger than crutches and canes, these are generally lightweight and foldable.
Rollators with handlebars and wheels
Rollators come with a frame of four wheels, a seat, and handlebars. They also have handbrakes to give additional safety. These are extremely useful for senior individuals who require more support than average. These rollators provide stability and protection just like the other devices.
You also have knee scooters, wheelchairs, and mobility scooters for those who require extreme assistance. You cannot say that these are walking assistance devices instead of walking replacement devices. For providing an individual with improved mobility, these devices are effective. However, proper training is necessary for using these properly. You may take the help of disability articles and resource guide for better understanding before making a purchase.
Moreover, you have to take the suggestion of the medical professionals before purchasing these devices because they are the right individuals to give you proper guidelines. Before you go shopping, you must do your homework on research. Look at the digital media for the necessary information to make the best purchase.