As skincare choices are tending more and more towards natural products, we're increasingly seeking the old, traditional remedies to treat different skin conditions. As we re-explore different ingredients our ancestors used back then and re-evaluate their cultural significance, we will find an extremely valuable gem – sweet almond oil.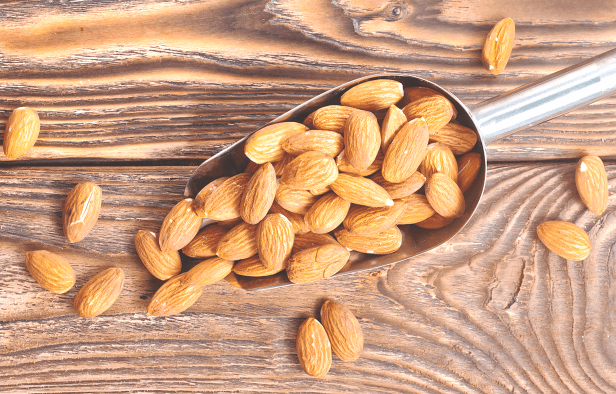 Sweet almond oil is used in Ayurveda, Greco-Persian and Chinese medicine for treating dry skin issues and alleviating severe conditions like eczema and psoriasis. Research has revealed that this oil of the 'king of nuts' indeed has many magical effects on the skin and has massive benefits if included in daily skin care routine.
Sweet almond oil vs almond oil
Before we explore more about sweet almond oil, it might help clarify a common confusion – almond oil vs sweet almond oil. In most cases, two are used synonymously. However, almond oil refers to all oils made from almonds. This includes not only sweet almond oil, but also a lesser-known essential oil called bitter almond oil.
When we talk about using almond oil for the skin, the reference is always to sweet almond oil. It is the carrier oil that has multiple nutrients beneficial to the skin. Bitter almond oil, on the other hand, is toxic and should not be used on the skin.
Nutrients in sweet almond oil that are beneficial for the skin
Now that the difference between sweet almond oil and almond oil is clear, let's explore the nutrients in sweet almond oil that work like magic for the skin.
Vitamin A
It stimulates the skin to produce new cells and smooths out fine lines thereby having an anti-aging effect.
Vitamin E
It is an antioxidant that prevents skin damage that is caused due to UV (ultraviolet) radiation upon sun exposure.
Omega-3
Omega-3 is an essential fatty acid that has moisturizing properties. It forms a protective shield around the skin and protects it from sun damage. It fights premature aging and is responsible for keeping the skin supple and pliable.
Omega-9
Also commonly known as oleic acid, omega-9 boosts skin immunity and protects it from inflammation. It also reduces the appearance of wrinkles and fine lines and therefore prevents premature aging.
Zinc
It helps in healing skin that is damaged by acne scars. It also plays a vital role in protecting the skin from UV-ray exposure.
Stearic acid
This nutrient cleanses the skin by removing excess oil, dirt and sweat.
Benefits of sweet almond oil for the skin
Treats dry skin conditions
Sweet almond oil is a rich emollient – it fills in the gaps between the skin cells and makes the skin smooth and flexible. It prevents skin moisture from drying out by forming a protective barrier.
Protects skin from aging
Sweet almond oil is best known for its anti-aging properties. It stimulates collagen production in the skin cells to keep the skin taut. It also moisturizes the skin to reduce the appearance of lines and wrinkles.
By protecting the skin from UV ray damage, almond oil also reduces hyperpigmentation conditions like sun spots, age spots and melasma.
Cleanses and moisturizes acne-prone skin
Acne-prone skin suffers from irregular sebum (natural oil produced by the skin) production. Oily skin is usually treated with harsh chemicals to get rid of the oil. However, that only irritates the skin and causes more damage.
Sweet almond oil is a light oil that cleanses oily skin off excess oil and dirt and unclogs the pores. This reduces risk of acne while also keeping the skin amply moisturized.
Reduces puffiness under the eyes
Sweet almond oil's anti-inflammatory properties help get rid of the swelling under the eyes commonly known as eye bags.
Reverses photo damaged skin
The vitamin E and fatty acids in sweet almond oil soothe irritation, inflammation and other kinds of skin damage caused by sun exposure. They also reverse the damage caused by UV radiation. The antioxidants neutralize free radicals and prevent oxidation. The moisturizing properties rejuvenate the skin cells that have been dehydrated. Also, by providing a UV-barrier, sweet almond oil helps reduce the overproduction of melanin. Over a period of time, this leads to skin lightening and evening of the skin tone.
Skin lightening under the eyes
Sweet almond oil has also shown whitening effects on the skin, lightening dark circles and reducing their appearance.
How to use sweet almond oil
Because of its many desirable benefits, almond sweet almond oil makes for an excellent addition to your daily skin care routine.
To remove makeup
Simply take a few drops of sweet almond oil on a cotton swab and apply it to the areas where you want to get rid of makeup. Almond oil is useful for especially stubborn makeup like eyeliner. Use a cotton swab with warm water to wipe out the oil and wash it off with a cleanser.
To cleanse the skin
Because sweet almond oil is an excellent carrier oil, it can be used to carry essential oils such as lavender, lemon, rose geranium or rosehip oil. Make your cleansing oil mix with almond oil and apply a few drops of this mix on damp skin. Wipe off the oil with a warm towel and wash.
To moisturize skin
Sweet almond is best applied as a moisturizer when the skin is damp, right after a bath. Simply pat a few drops of the oil on the face and body with your fingertips. Leave it on for the skin to absorb the oil and feel rejuvenated. Do not rinse.
To lighten skin
Take a teaspoon of honey and add a few drops of lemon juice and 6-7 drops of sweet almond oil. Apply this mix as a mask on the skin and massage it gently for about 5-6 minutes. Leave it on for an hour before washing off with lukewarm water.
To exfoliate skin
Add some fine sugar to a teaspoon of almond oil and massage it on the skin. The sugar acts as a natural scrub while the sweet almond oil deeply cleanses the pores to get rid of excess oil and dirt.
In your hot water bath
Hot water is known to strip away the natural oils on the skin but it isn't the case if you replenish the skin with a few drops of sweet almond oil in the bath.