Spray tans were huge news when they first arrived on the scene. Finally, you could get the kind of tan you wanted almost instantaneously without having to sweat for long sessions in the tanning bed. The discomfort and time-consuming nature of it all was just too much for some women until the spray tan came along.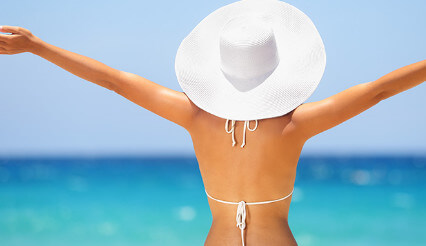 For a beautiful, refreshing glow to your skin, now all you need is a spray tan. If only it were that simple! In fact, there's a lot to consider before you choose your spray tan product. So how do you pick

Skin type

Some folks have flawless skin without dryness or oiliness. The majority of folks aren't that lucky, though, and suffer from sometimes oily or dry skin. Then there are the very unfortunate people who have ultra sensitive skin and frequently break out if they use chemicals.
For these folks, they need to look for spray tans that are made of natural ingredients specifically formulated for dry, oily, or sensitive skin. Don't just grab the first thing that comes along. Look for spray tan products that will enrich your skin as much as protect it.

Base Color

Once you've admitted that you're going to need a gentle, natural product (if you have sensitive skin), now it's time to determine your base color. Many folks make the mistake of thinking there's a one size fits all solution to spray tanning. Wrong! There are many different colors to choose from, and you need to select the one that's going to look right on your skin. Professional spray tan salons are pros at helping you pick the color that's going to help you glow the brightest.

Go Bronze

The perfect spray tan will always have a built-in bronzer that leaves your skin with the gorgeous glow that we all know and love. If you see a spray tan product with no bronzer, forget about it! You're going to be missing out on all of the advantages of the spray tan in general.

Ingredients of the product

A spray tan should always give you more than just a tan. Sure, that's vital, too, but you want a product that's healthy for your skin and capable of doing more than just giving you that awesome tan you're after. The best spray tans will incorporate anti-aging ingredients, and skin soothing ingredients that both protect your skin and enhance its natural glow.
The spray tan for you should always be one that makes your skin a more beautiful even while it gives it that healthy glow. A tanner should never settle for less than natural, healthy ingredients that bring out the best qualities for your skin and shield you from those not so good qualities.
People who have sensitive skin need to be especially diligent about finding a spray tan that is sensitive skin friendly. You'll know best what kinds of ingredients don't work well with your skin type. If you see ingredients you've reacted badly to in the past, run on to the next option and don't be afraid to select another one. Your skin is one of your biggest assets. People see it everyday. Don't jeopardize its health.

Reputation Matters

When a spray tan solution is a good one, word of mouth will spread quickly. Make sure that the brand has a website. Why? Well, spray tan companies that are prosperous and have a good consumer base tend to maintain websites and update them frequently.
They give you all the information you need to know about the ingredients of their products and the process they use to give you a beautiful tan. If a tanning solution has a website, a reputation with the online community, and has good word of mouth trending with customers, it's likely that they're doing something right. And you'll be the next lucky customer who gets to benefit from what they have to offer.

Spray tan care is an important part of some people's lives, and it makes good sense that this is so. When you get a tan, it changes your whole outlook on life sometimes, the entire way you feel about yourself and the world around you.
It's only natural that you'll want to find a solution that is right for your skin type and that has a good reputation with previous tanning customers. Most of the time, you can see the quality of a spray tan the first time you step into the business to get your tan.
It'll show in their customer service, their friendliness, and the way they operate their business. Look for that high quality customer service, their diverse menu of options, and their transparency about product ingredients. When you're walking out with a beautiful new spray tan, you'll be glad you did a little research before selecting your service.