A special occasion dinner is about more than the food. It's a combination of fantastic food, great atmosphere, and letting the other people involved realize how much you care about them. A surprise dinner for your significant other is a perfect way to show them how much you care for them and all that they do for you. You don't have to go out of your way either in terms of money. Here are four classy touches for a special occasion dinner.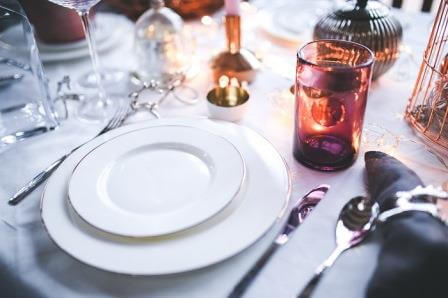 Get Candles
Candles are long associated with intimacy and classiness. They provide an enchanting and alluring atmosphere that can really make you and your significant other feel especially close to one another. It's crucial that you choose the proper candles.
Make sure the ones you purchase are durable and suitable for a dinner environment. Dinner candles tend to be longer so they can last for the duration of the dinner and more. You should also consider setting them in the center of your table so that you can see your significant other in the best light possible. This can increase the intimacy and love you feel for each other all the more.
Buy Flowers
Flowers are a longstanding romantic gesture. They are beautiful and full of life in a way that shows your affection for your significant other. Look for lovely bouquets that you can give to them. You might choose one type of flowers, such as roses or daffodils. You might also consider purchasing a colorful assortment. The best part about flowers is that even after the dinner, you can still appreciate the beauty they provide inside your home. Just make sure that you give them the proper care through consistent watering and proper sunlight. Buy from a shop like salt lake city flowers or someone similar to ensure that you're getting good a good quality.
Try a New Recipe
The food is a pivotal part of any special occasion dinner. While you might have experience making a certain recipe that you and your significant other both love, going above and beyond by making a new recipe can really make an evening even more special. Look for fine dining recipes that you know you can make. You don't have to spend a huge amount of money either.
You can find good deals on ingredients through looking at different supermarkets and specialty stores. You can also try making a multi-course meal through appetizers, entrees, and desserts. You want to give your significant other as memorable of a meal experience, one that has them salivating after every bite and ending the meal in pure satisfaction.
Say Something Special
A special occasion dinner is your opportunity to show your significant other just how much you care for them. While the food and decorations will get this point across, having a specific message will do so even more. When you greet your hopefully-surprised significant other with the dinner set-up, you should have something moving and sentimental to tell them.
During dinner, you should be engaged in conversation with them and let them feel as though they can open their heart to you. A special occasion dinner such as this is a wonderful way to express your affection. By showing them how much devotion you have towards them, they'll feel as though they can do the same towards you.
We hope this has given you a great idea of classy touches for a special occasion dinner. You can really show your love for your significant other this way. You don't have to do a million things either. Just prepare properly and think of ways to show them how much they matter to you. By following these tips, your significant other will know how much you care for them.