A Simple Guide To Rocking Ballet Flats
A lot of women would prefer wearing high heeled pumps and sandals. This is because it provides them with the extra height, sexiness as well as confidence that they need. However, not all women can have the skill to wear high heeled shoes day in and day out. This is because it can really be stressing on the muscles as well as your ankles. This is also one good reason why a lot of women would prefer wearing ballet flats.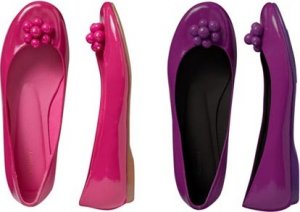 Ballet flats are actually classical, practical and comfortable. In fact, ballet flats can be used to complement all kinds of wardrobe. Yet, there is one problem that comes with wearing flats. At times, the shoes can make you look a little more frumpy instead of looking fabulous.
In order to avoid this problem, here is a simple guide to wearing ballet flats.
When Should You Wear Flats?
When going on the shopping.
Ballet flats are your best friends whenever you decide to go out on a shopping spree. This is because these will make your life a lot easier when changing on and off your clothes. All you need to do is to easily slip it on or off whenever you need to. [Also Read; The Guy's Guide To Clothes: 5 Essentials That Look Good And Feel Great]
When having coffee with friends.
Ballet flats will also come handy when you are going on a brunch or meeting up for coffee with friends. This will definitely make your outfit instantly chic.
When walking to work.
Commuting to and from work will certainly torture your ankles. This is why it is always best that you keep a pair of ballet flats on your bag so you can easily slip into it when it's time to go home.
When walking on the beach.
Aside from slippers, this is your best choice of footwear since it can be easy to slip off and on. Plus, this can be easily emptied of sand.
 How To Rock Ballet Flats?
Keep your outfit lean.
In order to avoid looking frumpy, you must establish a streamlined silhouette in order to make your body look a lot longer and more leaner. In oder to achieve this, it is best that you opt for a belted shirt-dress, great shorts, pants and a simple top to be paired with your fancy ballet flats. [Also Read: Denim 101: Guide to Finding The Perfect Pair Of Jeans]
Reveal some of your skin.
In the event that you have the confidence to bare some of your skin, this is when your ballet flats will look at its best. It is best paired with skirts, dresses or shorts which fall just above the knee. At times, it would also go well with capris that just reveal your ankles.
Wear with skinny pants.
In the event that you wish to wear your ballet flats with skinny pants, it can be quite tricky especially since if it is quite short. In order to remedy this, it is best that you try wearing your pants long to cover the back of your ballet flats.
With these simple tips, anyone can surely rock their ballet flats!
 Sarah Grace Del Rosario works as blog outreach manager at Ipilya.com, Shop direct from exclusive designers for bridal and special occasions. IPILYA is a premium luxury brand that unites superior craftsmanship and traditional artisan techniques with cutting edge materials to maximize comfort in our footwear.