Porn is often cited as one of the biggest reasons for breakups in relationships. But that's often because it is used selfishly and in secret by one of the partners.
In reality, porn could be a great way to bring a couple together and add some excitement back into the relationship. The trick is knowing how and when to use it. You also have to make sure that this is something you are both comfortable with. Let's take a look at how you can use porn to enhance your relationship.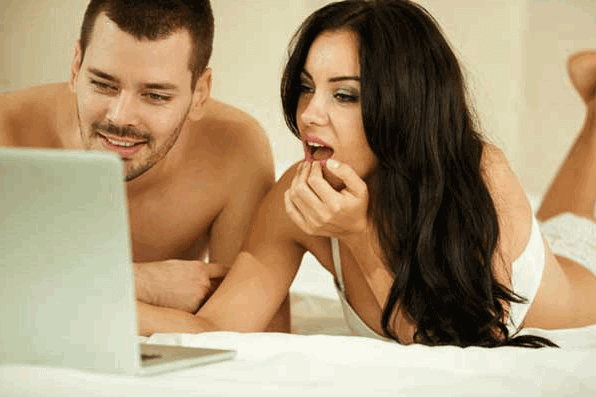 Break the Ice
Do not surprise your partner with porn out of the blue. You have to let them know that you're interested in watching porn with them. Some people will take offense if you don't let them know first, and you don't know if they're into it yet, so make sure that they're ready and that you have discussed the idea at length before.
Studies have shown that 60% of women and 90% of men watch porn. So that means that there is a very high chance that at least one of you watches porn. If you've never broached the subject of watching porn together, wait until you're in a neutral location and ask it in a non-pressuring way.
You could simply ask how they would feel about watching porn together. You will be much more likely to get an honest response with this approach.
Make sure that they are fully into it. They might act like they are just because they want to please you and save the relationship. If you notice any hesitation or feel discomfort, then you should consider other options.
Look for Porn that Turns Both of You On
One of the most important things is that both of you like the porn you're watching. If one of you is more reluctant, then you let them choose.
Sometimes your partner might feel intimidated by the type of porn you're into, and by letting them choose, they will be able to pick something that makes them comfortable. The last thing you want is to make them feel like they're competing with the actor/actress in the scene.
Consider Webcams
You should also consider looking at webcams. This is great if you were always intrigued about bringing someone else into the bedroom. This could be a great way to test the dynamic and see if it would actually work. It could also spark some ideas if you never thought of doing a threesome before.
If you're looking for a great adult chat site, try Babestation Cams. They're one of the biggest sites for sex cam live shows and have one of the largest selections of models online.
You'll be able to find someone with the look and personality that works for you and engage in one-on-one conversations with them. This could be a great way to test some kinks with your partner. The interactive aspect also makes it much more immersive than porn.
Don't Make it Feel Like You Need Porn
You shouldn't make your partner feel like you need porn to get satisfaction, however. If that is the case, it could be a sign of something deeper.
If you're having performance issues or are losing attraction to your partner, it would better to speak with them honestly and seek some help. Using porn as a crutch will eventually start eating away at their self-esteem and make matters worse.
Instead, try to introduce porn as a bonus. Tell them how it would be fun to watch porn together for inspiration. You want to make your partner the main course, and the porn the appetiser. You have to make it feel like it is for you both and not for your pleasure.
Porn can also be used to learn new tricks. Or maybe you'd like your partner to do something but didn't know how to ask. In this case, you could pick porn that is a little outside of what you are usually used to but make sure that both of you are comfortable. This alone could be enough to make your sex life much more interesting.
Critique Porn Together
You also shouldn't watch porn too seriously and have some fun with it. One of the ways you could do this is by watching porn just like any other movie and critique people's performance.
Maybe an actor or actress is acting way over the top. Or maybe the cheesy dialogue is cracking you up. Either way, you could have a good laugh but also catch something that turns both of you on.
Think Twice about Recreating Scenes
Porn doesn't necessarily have to stay a fantasy and you might be tempted to recreate some of the things you saw on camera. One thing you have to understand is that porn is very different on camera than it is on set. Some things may look nice on camera, but not so much in person.
You have to remember that porn is about entertainment first, and not meant to be an educational tool. These actors are performing. You don't know if one of them is uncomfortable or in excruciating pain.
You also may not be able to perform at the same level as people who literally have sex for a living. So, think twice and always make sure that both of you are on the same page.
Don't be Afraid to Masturbate Together
Another thing is that you shouldn't get shy when watching porn with your partner. If you want to masturbate, go ahead. You'd be surprised at how it could turn your partner on. The only thing you have to make sure of is to not start drifting into your own world. Always make sure that they feel involved.
Now that you have instructions on how to bring porn into your bedroom, make sure that both of you are fully on board first. Only then can porn be used as a tool to strengthen your relationship instead of weakening it.