Kate Middleton Welcome Royal Baby with Prince William
The royal baby has arrives today 22nd July, 2013. Kate Middleton welcome royal baby with Prince William. The heir to the throne is here officially!
What more can be said of the bundle of joy that fill the royal couple. The royal baby arrives at 4:24 P.M. on July 22 at St. Mary's hospital in London, and the fanfare has commenced. Congrats to the new royal parents!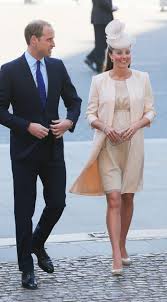 Kate Middleton and Prince William are finally proud parents, what that has been anticipated for sometimes now, and it's term to be the biggest anticipation of the century,
Prince William & Kate Middleton's Baby Born!
The baby, who has been famous since the day Kate's pregnancy was announced in December, arrived on 4:24 local time at July 22 at St. Mary's Hospital.
Kate gave birth in the Lindo Wing of St. Mary's Hospital, the same wing where Princess Diana gave birth to William and Prince Harry. As originally planned, The Royal Household official Surgeon-gynecologist Dr. Alan Farthing and the Queen's Surgeon-Gynecologist Dr. Marcus Setchell delivered the baby.
Now that the baby is born, a bulletin will be posted on a wood and gold easel just inside the gates of Buckingham Palace with the baby's gender, weight and time of birth. The name of their little one will be announced at a later time, but a source told us that Kate and William "will pose with the baby for pictures" upon their departure from the hospital.
Post-Birth Plans; Kate Middleton And Prince William
It was rumored in April that Kate would live with her parents after the birth of her little one. Kate's uncle Gary Goldsmith confirmed the rumor was true in an interview with The Telegraph in May, saying initially living at home "will take the pressure off Kate." After all, Kate was nervous about having a child!
Regardless of where Kate lives with the baby for the first several weeks after giving birth, Queen Elizabeth III hopes Kate and William bring the newest great-grandchild to her Balmoral estate for the second week of August. She can't wait to spend time with the newest family addition!
The Queen will want to spend as much time as possible with her third great-grandchild, who will one day be monarch regardless of sex," a source told The Daily Mirror in June. "Her Majesty will relax in the clear Scottish air, enjoy long walks with her dogs, and dote on the new arrival like any loving great-grandparent.
Who knows how much the public will get to see of the royal baby, but we're just happy he is finally here!