How to Get Over Broken Relationship
Getting over a broken relationship is not that easy per se but it worth getting over because it's going to ruin your life if the excesses are not curb while it's still fresh. Falling in love is awful simple but falling out of love is simply awful, an experience no one can imagine to have but it's here with you now.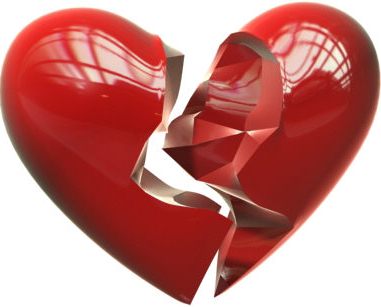 You need to get out of the remorseful nature of broken heart, you should remember that if love fails, you need to set yourself free and let your heart spread its wings and fly again. Remember also you may find love and lose it, but when love dies, you never have to die with it.
Few steps to get over broken relationship
1. Establish yourself image:
When people get into relationship, often times they forget themselves and are deeply immersed into the relationship. It is not a bad idea to deeply involve in your relationship, in fact, it's the best thing to do to get the maximum value of your relationship but when things turn upside down, people find it difficult to come out of their deep immersion in the relationship. The best thing you can do for yourself as the situation demand now is to re-establish yourself image and remember those things you used to do before getting into the broken relationship. You can always remind yourself that you can do things all alone with the help of God, and that is what you've been doing before finding him or her.
2. You need a complete detachment
 As at this stage, you need to learn to completely detach yourself from the emotion of your past experience. No one will help you to do this except you. Until you're able to separate yourself from the feelings of old, that is when you will be open to new love and relationship. So the most direct path to happiness and peace is detachment. In his book, Eastern Wisdom for Western Minds, Victor M. Parachin tells a wonderful story about an old gardener who sought advice from a monk. Writes Parachin: "Great Monk, let me ask you: How can I attain liberation?" The Great Monk replied: "Who tied you up?" This old gardener answered: "Nobody tied me up." The Great Monk said: "Then why do you seek liberation?" That is just the magic, nobody is bonding you into your broken relationship, you need not to think of it anymore to set yourself on the part of peace and happiness.
3. Go out to help someone else
You may not want to belief this until you try it out; go out to help someone else to improve their situation, especially someone who is suffering the same thing you're suffering. By doing so, you will forget about what is happening to yourself and I'm sure, you'll want to practice what you preach. This can let you easily get over your broken relationship, it's a strategy that has worked for many people and I belief it will also work for you as well if you give it a try.
4. You're going to love again and love deeply
You should remember that you're going to love again no matter how bad your broken relationship went about, when you're sure you're not going to get your ex back. Even if you don't expect it, someone will come along the way to fall in love with you or have you fall in love with her. You might want to be careful about it but don't block every good opportunities coming your way. Remember that the end of one thing is not absolutely the end of everything, and sure the new love might be all you need to start your romantic love life again.
5. Learn to forgive yourself
Regression of the things you've done in the past that lead to your broken relationship can continue to hurt you, even if you think you've done nothing wrong, it's possible for you to go into self-pity. The only way out of this is to forgive yourself and let those hurt go out of your heart through forgiveness and find new hope. There's a powerful quote in this movie "The Tale of Despereaux" that I've been thinking about ever since I heard it: "There is one emotion that is stronger than fear, and that is forgiveness."
I'm very sure if you follow the 5 steps I mentioned above, the question of how to get over broken relationship will find no way in your thought and lip anymore. Perhaps if all you desire is to get him back, then, there is no much problem in getting him back if you can follow this guru that knows how to get ex back, he's been there for years now and I can confirm it that his programme work much more than anyone else ideas of getting your ex back. If you want more information about how he will teach you the clever psychological tricks to get him begging for you back, here is where you should go, Click on this link now; GET MY EX BOYFRIEND BACK FAST!