Not everyone needs a wedding planner, but sometimes having one on your side just makes it so much easier. There's just so much to do when it comes to your wedding, from envelopes to guests, or location weddings, that you might need someone there to help you out. On the other hand, there are reasons why you might want to DIY, so before you hire someone, figure out which option will work best.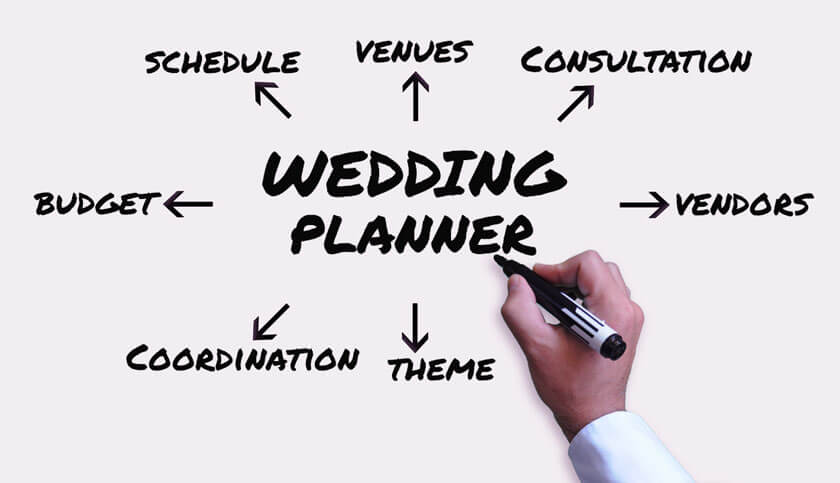 Think About Budget
One of the most important factors in any wedding is how much you're willing to spend. Find out exactly how much a planner will charge you, what you'll be paying for, and how you'll be charged. Is it an hourly rate or a flat fee? There might then be contracts or non-refundable deposits that you have to think about too.
If you are planning to work with a planner, discuss with your fiancé about the details and responsibilities with the planner. However, if you just don't like the idea of a planner or don't have the extra cash, there's nothing wrong with doing it yourself.
Be Realistic
It's important to be realistic about your budget. Know what you can spend and how much you're willing to spend. Usually, around 10-20% of your total wedding cost is what a coordinator charges, which can be a lot of money. Doing the wedding yourself means that you might be able to use that money on flowers, music, champagne, or anything else you want.
Do You Need One?
Really think about whether you actually need a wedding planner for what you're planning. Not every bride needs one, so if you've done most of the work already, maybe just hire someone to help you on your wedding to fix any issues while you're walking down the aisle. You can even hire someone for the last few weeks to cut down on costs while still getting the help you need.
Planner Needs
Research is always necessary with anyone you hire, so make sure to gather a few basic details. Obviously, know how much money you can spend, and tell any potential planner that number when you first get in contact with them. If there's someone who's just out of your price range, they'll let you know right away so you don't need to waste your time.
Planners will also interview you to be sure they can handle whatever you're working on, so that there won't be any surprises in the end. You'll know exactly what they're capable of, and if you might want to handle the wedding yourself.
Think of the Details
Have everything ready before you or a planner gets to work. Know the amount of guests you want, the tone you're looking for, and when the date is set to be. This can be especially important since having a date may narrow down your choice of planners and reaffirm your choice to go DIY.
Possible Questions
Before you meet with anyone, think about what questions you have such as the charge, how they've come to that amount, and so on. Talk about the person's background too along with their experience. Be sure that you're getting a person you'd like working on your wedding, and that they can fulfil your expectations.
Do It Yourself
There are many reasons you might want to get a wedding planner, but do it yourself weddings are becoming more popular nowadays too. Planning everything on your own can bring you closer to the people who are working with you, and can spice up your wedding as well. On top of that, you can save a lot of money not hiring someone else and setting everything else up yourself.
What you choose really depends on what you're looking for. If you talk with wedding planners and none of them can really recreate the wedding you want, do it on your own! Planning your wedding by yourself can save some money while keeping you completely in the loop, making you feel involved.
Conclusion
There are a lot of reasons as to why you might want to hire a wedding planner rather than doing it yourself. You save time, effort, and can start thinking about your life together with your fiancé! Hiring someone isn't for everyone though; if you know your DIY wedding can be beautiful, then get started for a wonderful wedding day.
Bio

Elena spent the past 5 years of her life planning weddings for overseas couples in Malta. She runs wedourway.com and will not change her career for anything. During the shoulder months, when she's not that busy, Elena enjoys travelling and helping her local charity caritas.