Smartphones and Tablets are now designed to be used with a good number of apps currently developed in the tech market today. Kids are very inquisitive creatures and providing them with smartphones or tablets for their own personal use always fills them with great excitement. Once they get their devices, they would most certainly want to download some apps like games and others applications that may not be appropriate for them to use.
In my previous article on how to protect your kids from the dangers of social media, I mentioned that parents have absolute right to regulate, control and monitor the activities of their kids on social media. Nowadays kids are very smart and more computer savvy than their parents, therefore, parents need to "take the bull by the horns" and make their children understand they are in charge and smarter than they are. With the increasing use of apps to perform most tasks on smartphones and other devices, there is now greater need for parents to ensure that their kids are using the kind of apps essential for their age level and education.
There are different types of apps in the app market designed for adults and children of different ages, which they can use to learn while having fun with it. Almost every goods and services of different brands, from their producers or retailers are now developed in apps to serve their customers and clients better, so also are educational apps for kids.
What are Educational Apps for Kids?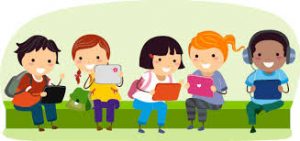 Educational Apps are software applications developed by app developers for use on Android, iphones, ipads, ipods, and itunes. They are developed for different age grades, according to academic levels, and uploaded to the app market, where people can download them and use. Some are free, while some come with prices. Therefore, you may decide to save your money and get the free ones for your kids.
The ones that come with price are more sophisticated and developed with better features. There are different apps for Toddlers, Preschoolers, Kindergartens, Grade 1, Grade 2, Grade 3, great 4, great 5, Grade 6, High Scholars and Apps for all ages.
What Your Kids can Learn from Educational Apps.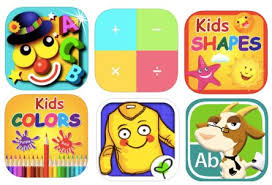 These apps are very educational for your kids as they can learn and develop their IQ while they use them. They can learn sing along songs, critical thinking and problem solving skills, learn handwriting, how to read and write stories, world geography, how to spell different words, letters of t
he alphabet, watch special cartoon characters from Disney and others, perform different levels of arithmetic and Algebraic functions, learn  grammar, sounds and their pronunciations, how to draw and color objects, read story books and learn how to create music with musical instruments. They can also learn about fruits, vegetables, animals and things. All these apps are found on Google and App stores, but they are scattered among adult apps and categorized under games, entertainment, books, and education. Therefore, the problem now is how to find these apps.
Where and How to Find Educational Apps for Kids
The problem of finding a good app for your kids to learn with, led me to write this article with a list of various children apps and where you can get them. You can find these apps on:
Google play Store: Google now provides a good number of these apps on their Play store on the family category. Most of the apps on Google play store are free and can be used on either tablets or Androids. So you may not need to pay for them.  To download these apps, simply go to Google play store app on your Android, you will find the family category on the various categories available on the store. Click on the family category and you find various apps designed for kids of different age grades. The Google play store has parental control settings. Go to settings and select parental control, select the age level of your kid and set restrictions on apps that are not appropriate for your kids and allow those you would like Google to send to the phone. Use a password to set it so that your kids do not reset it when you are not there.
Apple Play store: The best children apps are mostly developed on Apple devices to be used on iphones, ipads, ipods, itunes and Mac. Apps on Apple stores can be downloaded from itunes. Kids educational apps can be found under the Games and Educational categories. Some are free to download and used online. You can buy some and use offline and there are also some free ones you can use offline. To download, go to itunes, under educational and games categories, you will find a good number of them there. Apple store developed OurPact  app for parental control. With OurPact, parents can block inappropriate apps and links from their children devices and manage their screen time. Alternatively, you can go to settings on your ipad, iphone or ipad, click on General, under general click on restrictions, enable restrictions, enter a password to restrict others from changing your settings, then you can start changing the settings according to your child's age.
You can personally educate your kids with these apps. With new inventions and innovations in smartphones, tablets, computers and wearable techs, things are now made much more easier for us these days. Kids now have less difficulty in learning with these educational apps and you now have better ways to teach and develop them academically and otherwise.