Wedding event is a huge and one-time event. Wedding preparations involves a lot of things. Wedding preparations demands a lot from you, if you did not take your time to research on what needs to be done, you may miss one or two essential parts of the preparation. While trying to get everything together, it is easy to forget about some of the essential accessories for the bride, groom and the bridal train. We have provided in this article a complete list of all essential wedding accessories to ensure you don't leave one out.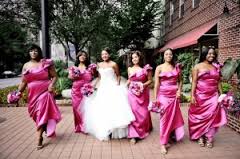 Complete list of essential bridal accessories
The first and most essential bridal accessory is the wedding gown. There are a lot of other accessories that a bride needs to bring out the complete look of her bridal appearance. The most significant ones among these are listed below. They will make a good check-list for you as you choose your bridal accessories.
Head accessories
The head and hair accessories you need are the bridal veil, headpiece and hair accessories that match your choice of hair design.
Shoe accessory
Your wedding shoes must be comfortable on your feet. It must be able to allow you move and dance with ease.
A bridal hand bag
You'd need a grip bag to help you carry your wedding day essentials
Wedding jewellery
You need wedding jewelry like ear rings, bangles and necklace to bring out more sparkle and accentuate the beauty of your wedding dress. You will also need a bridal garter for a modest traditional look. You also need a Bridal lingerie for a prop up and to make you feel sparkling and dazzling on your wedding day.
Essential Bride groom's wedding accessories
Just like the bride, there are a few essential accessories a bride groom requires to make his day a very special one. Some of these accessories have been included below to help you look as handsome as you can be on your special day.
You would need a wristwatch to help you keep an eye on the time and ensure you attend the ceremony on time
A handkerchief should be made handy in your pocket to take care of sweats or possible tears of joy.
You need identical buttonhole and  groom's bouquet
You'd need a tie, cravat, or bow to complement the look of your grooms attire depending on the period
You may wish to also consider a waistcoat or cummerbund if deemed necessary.
You'd also need hand gloves and sometimes a hat depending on choices.
Essential bridal accessories for Bridal train
Apart from getting accessories for the bride and the groom, you also need to consider the accessories of your bridal train while budgeting for your bridal accessories. The bridesmaids, ushers and parents of the bride and the groom would require some kind of additional pieces of accessories to show that they are part of the bridal train.
You would need some form of bridesmaids' jewellery which will serve as a token of appreciation from you after the wedding.
You'd also need some kind of accessories for the bridesmaids' hair and little bride to make their beauty wholesome.
You need to get bridesmaids' shoes to complement their dresses
Ties, waistcoats, and top hats for the ushers and fathers
Buttonholes for the male members and wrist corsages for the mothers
Wedding ring bag or cushion for the best man or ring bearer
A basket for your flower girl to carry down the aisle
Wedding accessories for the service
Oftentimes, we forget to accessorize the wedding service. While you consider your wedding accessories, think of a few things you can add to the ceremony to embellish the occasion and make your day very significant and special. Adding things like the following can add to the beauty and spark of your special day.
Confetti, rose petals, or bubbles of flowers for guests to shower you with
Orders of service to help your guest know the program o
f the day and follow accordingly.
Good fragrance candles to make the environment look and smell cool.
Finally, do not forget accessories for wedding reception like escort cards, bomboniere, a wedding cake topper, knife, and stand, together with cake boxes, serviette rings, wine glass gems and vibrant glassware and a thank you gifts for your guests.