The holidays are a great time to switch up the 'work, work, work' attitude at the office and add in a bit of fun. Employees will feel engaged and appreciated, and it will raise workplace morale.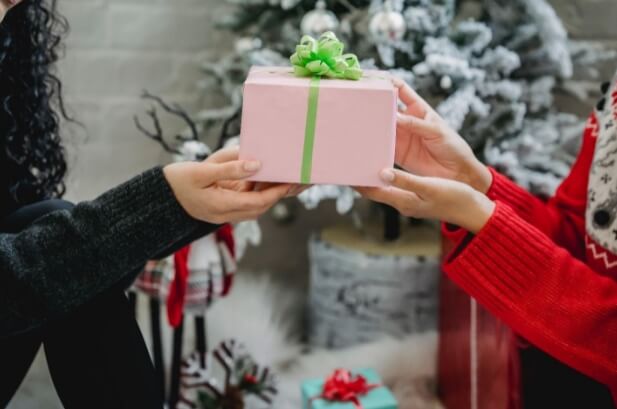 If a gift exchange is a part of your holiday festivities, be sure that every employee is involved (who wants to be) and there is a specific price limit for people to follow. Also, allow employees to opt out of the gift exchange if they so choose, with no explanation required. Liven up this year's usual gift exchange with these alternatives!
A Twist on Musical Chairs.

Have everyone bring in their wrapped gift and gather in a large circle.




While holiday music plays, have employees pass their gifts from one person to the next until the music stops. Whatever they are left holding, is their gift to keep!





There's Nothing Like Homemade.

This can be worked one of two ways. The first is that everyone chooses a gift recipient, and crafts something specifically for them. It might be a personalized stocking or a nameplate or anything their heart desires and their hands can create! The second method is to choose a general gift for everyone to make, which can be presented to anyone.





Festive Holiday Trivia.

Put all of the wrapped gifts into a pile, and host a game of holiday trivia. When a person wins, they choose their gift. This carries on until everyone has something. This can be done in person or remotely. Presents such as

egift cards

, which can be purchased and easily sent via email or text, make perfect gifts to use for this exchange.





Secret Santa.

By now most everyone has participated in a Secret Santa gift exchange. However, it is a tried and true favorite at holiday time, and is sure to get your employees excited and motivated! Everyone who wants to participate puts their name into a bowl, and then everyone draws the name of the person they will buy for. Again, be sure to set a limit on spending, and make it even more fun by encouraging employees to share hints and clues about their gift recipients identity, leading up to the actual party.





Numbers Gift Grab.

This is also often called a 'grab bag' and works this way: Employees bring in a wrapped gift under a firm price limit. Each gift gets a sticky note with a number on it, corresponding to numbers in a bowl. Those who are participating, draw a number from the bowl to determine which gift they receive. Another method is to have employees choose their gifts based on the number they pick from the bowl.





Book Exchange.

If your office is filled with readers and bookworms, this is the perfect gift exchange for them! Everyone picks a name from a hat (like Secret Santa) and then they purchase and wrap their favorite book or a book by their favorite author. To help everyone get to know each other a little better, have them write inside the front book cover or on a note, what that book means to them and why they recommend it.





Joint Gift.

Instead of people buying gifts for each other individually, offer the opportunity for everyone to pool their money and buy a joint gift for the office. This might be a nice coffee machine, wall décor or even a grill for office lunches and parties.





Favorite Recipe Exchange.

Not everyone describes themselves as a great cook, but most people have a favorite dish or recipe. Have employees write out their favorites on a recipe card, and then fill a basket with all of the ingredients to make that particular dish. Draw names out of a hat to determine who gets each basket.





Scavenger Hunt.

A great game for remote workers, write a list of fairly common objects that employees can easily find throughout their house and yard. Have everyone join a Zoom call then send them out to find everything on the list. An egift card can be sent immediately to the winner.





Cookie Trade.

For this exchange, have everyone bring in a couple dozen cookies (they can make or purchase them). Be sure to keep employee allergies in mind! Then, employees can fill a holiday treat basket or bag with samples of everyone's contributions. If the office is a competitive one, let guests vote for their favorite cookie and give the winner a special prize.
When you go the extra mile to make the ordinary extraordinary, employees will notice. Choosing an alternative method to exchange gifts allows for the opportunity for employees to bond, learn about each other, and have lots of fun!