Since a wallet is an accessory you'll be using on a daily basis, a number of factors come into play. Ultimately, when shopping for men's wallets, quality is a major determinant. If your budget allows it, then you should get yourself something luxurious and durable. Below are important aspects that will certainly help you make a buying decision.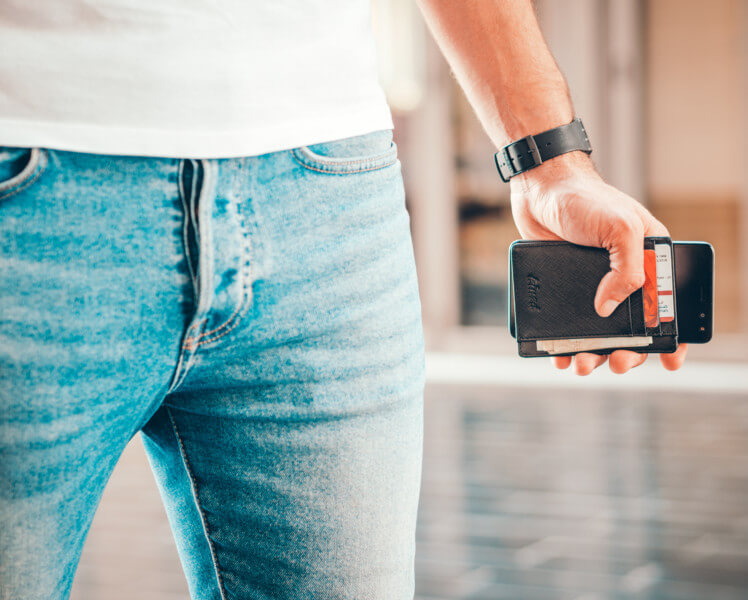 Wallet Materials
While not every single wallet is made of leather, the best quality variants are actually made of this material. The descriptions presented below help you determine which one matches your needs perfectly.
Leather Wallets
Leather is the most commonly used material for wallets, and while this may seem pretty obvious, you have many options to choose from including the following:
i. Cow Leather – A superb fit, especially if you're looking for something durable and appealing. Possibly the only downside of choosing cow leather is that the grades vary widely and the touch does not feel so sleek. For a more luxurious touch, you might want to consider a softer variety of leather, which in this case would be calfskin.
ii. Alligator skin – The distinct pattern of alligator skin is something that allows you to quickly identify the material. When it comes to craftsmanship and quality of the handmade wallets, the alligator skin variants are clear winners. If you choose to buy a wallet made using alligator skin, you need to exercise great caution, as there are lots of fake versions on sale today.
Cotton Wallets
You might have probably noticed the influx of the high-end fabric wallets from the renowned fashion designers (Prada and Gucci). What do you think about these?
I initially didn't like the looks of these new wallet variants, but over time, I've grown to like and appreciate them both in terms of functionality and appearance. You can combine numerous color options to show your own personal style and coordinate the wallets with virtually any outfit. However, cotton wallets are not nearly as durable as their leather counterparts. Consequently, they are more likely to wear down fast. The action of pulling a cotton wallet in and out of your tight denim regularly potentially wears out the material fast. Even so, this should not hinder your decision to acquire a cotton wallet if you won't be wearing tight jeans.
Synthetic Wallets
Synthetic wallets are quite interesting for the simple reason they mimic cotton or leather, even though they are made using completely random choices of materials. Some wallets are actually made from old tires and seat belts. If your mind is made up on buying a synthetic wallet, then you should strictly buy one for the more casual environments. Note that the synthetic wallet variants compare badly to cotton and leather.
The Different Types of Wallets
Slim Wallets
A popular wallet variant for the last 3-4 years. I personally like Kinzd slim wallet with ID window for one reason; when you wear slim fitted attire, a slim wallet will effectively eliminate the bulk typically caused by traditional wallets. Wearing a well-tailored pant with a wallet bulging in your side or rear pocket ruins your looks, and it can be quite embarrassing.
The lack of functionality of the slim wallets is a major downside, as users can only store 3-4 cards utmost. While they remain a fantastic option for night outs, you can't use them much as a daily accessory
Billfolds
These are basic, traditional men's wallets that come in two varieties including:
i. Bi-fold – Single fold with two sides for inserting essentials.
ii. Tri-fold – Two folds with two sides that overlap a central part containing inserts that allow you to store your cards, including other necessities.
I would recommend the billfold wallet variant over other options. You should actually have it as your main wallet because it suits virtually any environment.
Long Wallets
Having a long wallet is beneficial for the simple reason that it allows you to store bills flat thus eliminating the need to keep them folded. The wallet is meant to be put in a briefcase and not the pant pockets. Some people might suggest that long wallets should be put in a back pocket, but this is less flattering and unsafe. Due to its impractical nature, I do not recommend the purchase of this wallet.
Travel/ Passport Wallets
These are good for occasional use and are great for storing important documentation as well as other necessities in a convenient manner. Passports wallet variants are larger than their traditional counterparts. They work well if you just need to store your travel documents conveniently and neatly than having them scattered all over in your bag.
As added security, a vast majority of travel wallets incorporate a clip to hinder theft of your personal belongings; a plus in our opinion!
Final Tips for Buying Your Next Wallet
The tips we provide below will ensure that you invest in a truly timeless wallet with a super stylish look.
i. A good wallet should have no zippers whatsoever. The leather goods incorporating a zipper are for children and women's accessories. Leave the loose change at home or carry them in your pockets if you really need them.
ii. Buy a quality wallet with no branded logos and the patterns should be minimal. Remember, simplicity is the key to being elegant.
iii. If you choose to buy a letter wallet, get a brown or black one. Both are luxurious and classic colors, which boast of versatility in virtually any environment.
iv. Look at the construction and build quality of wallets prior to making a purchase decision. A Turned Edge wallet is highly recommended. While these are slightly more costly than the regular ones, they last many years, thanks to the build quality.
v. A wallet creased by a hot iron to create the Turned Edge is more desirable. I personally love the creased look, as it shows the craftsmen's attention to detail.
When you do your research and make smart purchase decisions, you can rest assured knowing you'll have a quality wallet that you'll enjoy for many more years.