The drama of what to wear! You can spend days thinking up the perfect outfit for a first date. What you wear after all speaks volumes about your personality, so it's an important step towards making a great first impression.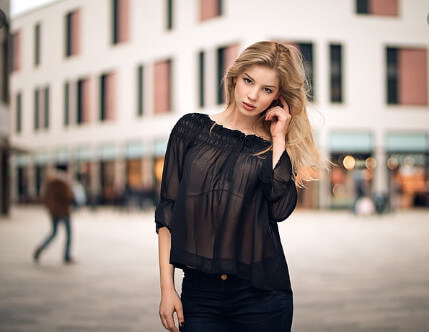 Before we go into some hot outfit ideas that will help you make it past the first night out, consider what he already knows about you.
If, for example, you managed to snag this date on the Cougar Dating App, then something about the outfit in your profile picture appealed to him and you should stick to that thread for your first date.
Consider what might have appealed to him about you and be true to yourself. It's also important to consider the date itself, whether its daytime or night, dinner or an ice-cream, ensuring you are dressed appropriately will help you feel more comfortable on your date.
1. The Sheer Top with Black Jeans
Black jeans can be very flattering and should be a staple for evenings out. Paired with a sheer top they show off your legs while giving a hint of glamour and sex appeal. Don't go all out sheer, it should be more of a suggestion rather than revealing all.
2. Blue Jeans and Jacket
As versatile as they come, this is an outfit you can rely on and feel comfortable in. Suitable for daytime dates, and you won't look out of place should your date extend into the evening. Throw on a real leather jacket for a more 'rock chick' look or a sharp tailored jacket if he's picked somewhere that might be smart. A plain top below will mean that you can always lose the jacket for a more casual look.
3. Leather Jeans
Pleather, leather, faux leather, all these options look great in a skinny jean and paired with a kickass pair of heels. Leather jeans are great for drinks (you won't want to be hiding your legs under the table with these bad boys).
4. Vintage Jeans
For daytime dates, a pair of vintage blue jeans with a scoop necked tee will give you an easy, casual air while also looking super flattering and on trend.
5. Coloured Jeans
Coloured jeans are a sure way to elevate a simple outfit and are great for outdoor summer dates. Pair them with a simple top, your favourite sneakers and keep your accessories to a minimum to allow the jeans to steal the show.
6. Blue Jeans with a Knee-High Boots
A partnership made in heaven, designed to make your legs look endless. Throw a pair of leather knee-high boots over your favourite blue jeans, and you are ready for anything. There is something deliciously sexy about knee-high boots and either a t-shirt or a blouse on top can complete the look for any occasion.
Whatever your choice, choose an outfit that you can feel comfortable in, you don't want to be endlessly fidgeting with straps or tucking yourself in throughout the night.