Every couple has their own unique love story—a love story punctuated by an interesting mix of mutual hobbies and interests, memorable experiences, and shared hopes and dreams.
A wedding, therefore, should be just as unique. Instead of having a cookie-cutter wedding that looks exactly the same as everyone else's wedding, every couple should strive to make theirs just as beautiful, weird, eccentric, and just as enchanting as the love story they share.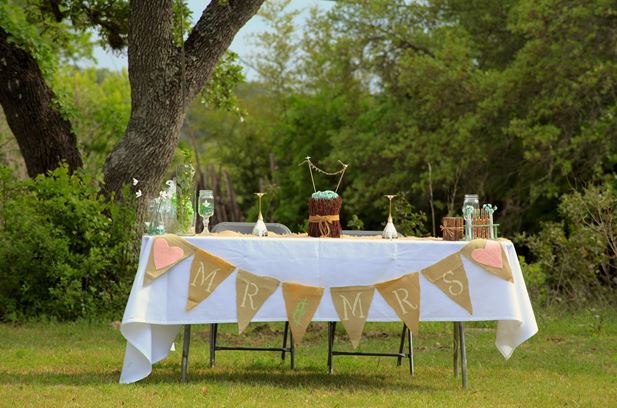 Photo by Jessica Hanrahan / CC BY-NC-ND 2.0
But of course, this doesn't mean that a classic ceremony is out of the question. You don't necessarily have to throw away the conventional wedding formula just to make yours more interesting and one of a kind. You can still have the fairytale wedding you've always wanted (you know, the one from your carefully curated Pinterest board?) while still incorporating a few distinct accents and details here and there that reflect your combined uniqueness as a couple.
Here are some creative ideas to help give your wedding more personality:
1. Use personalized coasters.
Sometimes, the smallest details can make the biggest impact. Coasters are easy to overlook when you're planning the design elements of your reception tables, but they also give you another opportunity to be creative and add even more personality to the wedding.
If you want something more durable and personalized, you can also have one of your favorite engagement photos printed on metal to create cute little portrait coasters!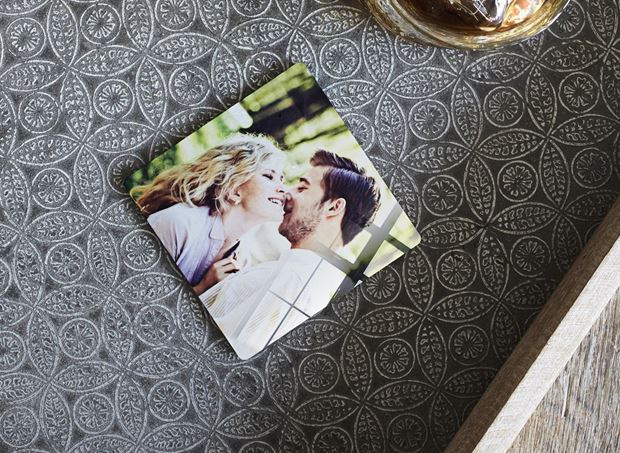 2. Have an accent wall.
Couples usually share a passion for something. More often than not, it's the very thing that made them like each other more and sparked that first real connection between them.
Are you both passionate about books? Do you have a shared passion for traveling to exotic locations? Whatever it is that you two have in common, if it's something significant enough to share with your guests on your wedding day, why not showcase it at the wedding through an accent wall?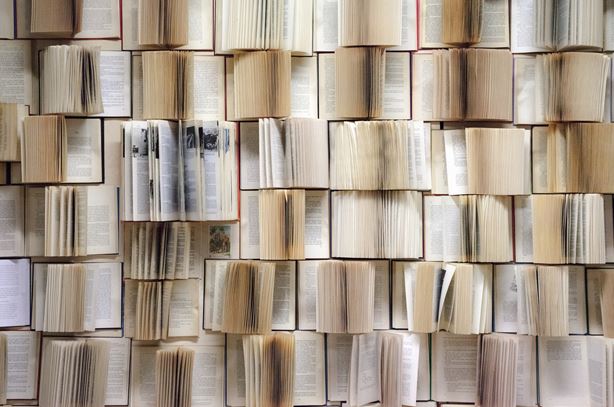 Bookworm couples, for instance, can share their passion for reading by having an accent wall at the venue—made out of their favorite books! It's purely decorative, plus it can also serve as a great backdrop to pose in front for all the subsequent bridal photo shoots!
And don't you just adore this beautiful wall of colorful paper cranes for origami-loving couples?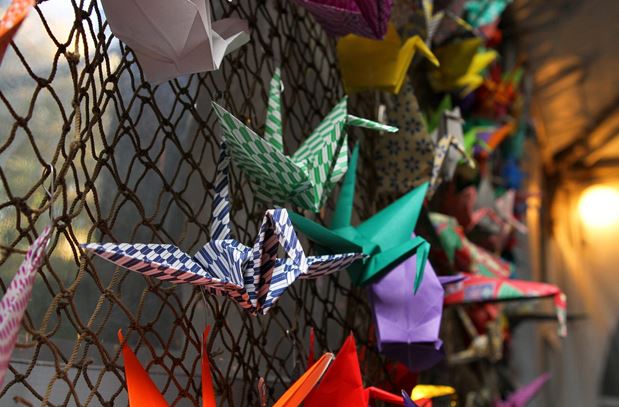 Photo by Rebecca / CC BY-NC-ND 2.0
3. Exchange vows under a unique wedding arch.
Instead of the usual flowery arch swathed in tulle and ribbons, why not say "I do" under a custom arch that reflects your personality? Once again, think of a design idea—as a couple—for your wedding arch that can showcase something that is pertinent to your relationship, to your story, and to you as people.
Or, you can just think of something creative. When in doubt, let yourself be inspired by your venue! If you're having your wedding at a particularly beautiful or interesting place, like a stunning tropical beach, a rustic old barn, or even a majestic library like the one from Carrie Bradshaw's wedding in the "Sex and the City" movie, then maybe you can think of something that is in theme with the place.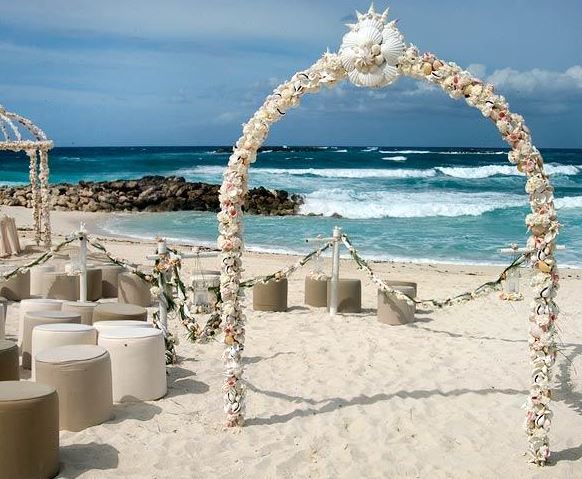 Photo by Mathilda Samuelsson / CC BY-SA 2.0
4. Walk down the aisle with style.
If you've ever been to someone else's wedding, then you probably know that watching the bride walk down the aisle can be one of the most breathtaking, tear-inducing moments out of the entire ceremony.
Make this moment even more meaningful than it already is by giving the bride something more interesting to walk on. Because why walk down a boring old carpet when you can float down a path made of ribbons and glitter, or a carpet of stunning flowers?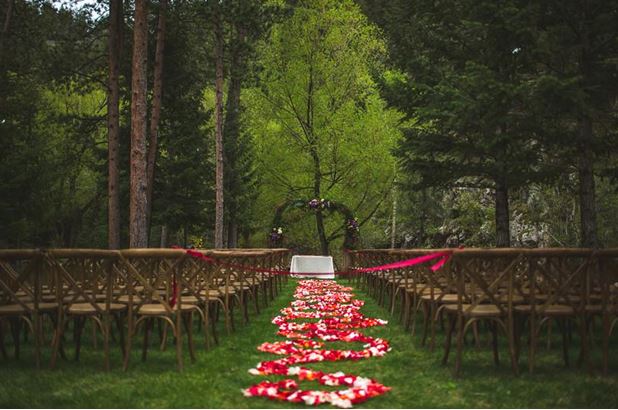 Photo by Heather Balise / CC BY-NC-ND 2.0
5. Have a memorable guest book.
Here's another area where you can think outside the box. The guest book is one memento from your wedding that gives you an actual, physical keepsake by which you can remember all the loved ones who took the time to share your special day with you.
Traditionally, couples use a plain guest book—usually a hardbound book with blank pages and a nice cover—that their guests can sign their names in. But wouldn't it be more fun (and vastly more meaningful) to do something a little bit different?
Having a creative and unusual guest book gives you a more memorable way to remember the people who came to your wedding and witnessed your happiness.
It can also serve as a way to, once again, impart a significant fact about your relationship and your story. Let's say you and your spouse-to-be fell in love after discovering your mutual passion for rock music.
Why not have guests sign old vinyl records of your favorite rock bands? Or maybe have them sign a musical instrument—like a guitar—that holds a special meaning to you as a couple?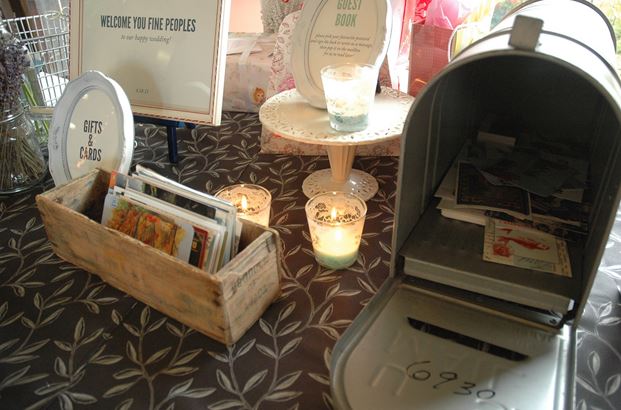 Photo by Jen Kim / CC BY-NC-ND 2.0
Or let's say you went through a long-distance phase in your relationship and developed a tradition of sending postcards to each other via snail mail. Why not have your guests write on beautiful postcards and have them place these cards in an actual mailbox at the registration table?
6. Adorn your reception tables with meaningful centerpieces.
A towering floral centerpiece would be undeniably stunning. But if you're the kind of couple who doesn't really go for the traditional stuff, a unique and meaningful centerpiece might be the better option for your wedding.
The centerpiece, after all, is something that all your guests will have to look at during the entire duration of the reception—and it would be great if it could somehow be another way to share a piece of your history together as well.
For instance, if you and your partner are crazy about video games, wouldn't a video game-themed centerpiece make a more meaningful (not to mention incredibly fun) statement about your relationship?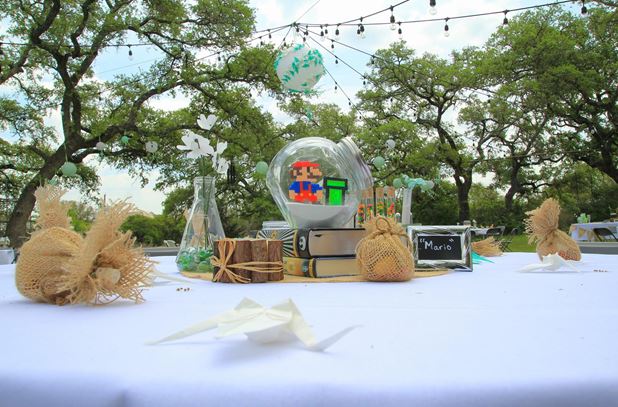 Photo by Jessica Hanrahan / CC BY-NC-ND 2.0
7. Make your guests feel special with interesting place cards.
Typically, a place card is just a fancy piece of folded paper with your guest's name on it—written in elegant script, of course.
But wouldn't it be a nice little surprise for your guests if you used more creative place cards to mark their seats on the tables? It can even serve as a wedding memento that your guests can take home with them!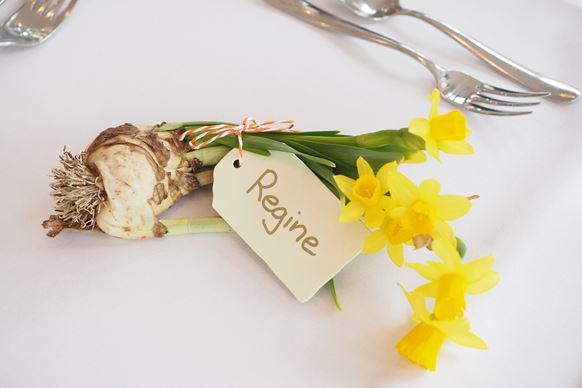 And you can do it with the napkin rings, too!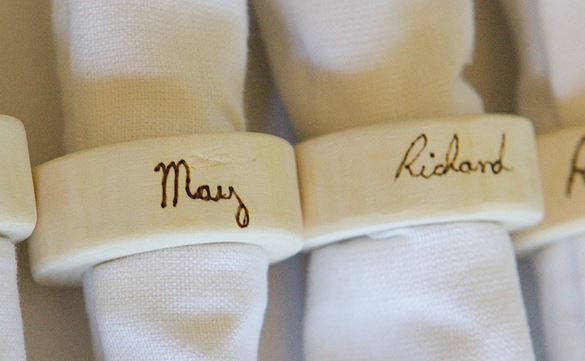 8. Mark the reception tables with creative table numbers.
Speaking of centerpieces and place cards, you might as well use the table numbers to inject even more personality into your wedding.
Because why be ordinary, right?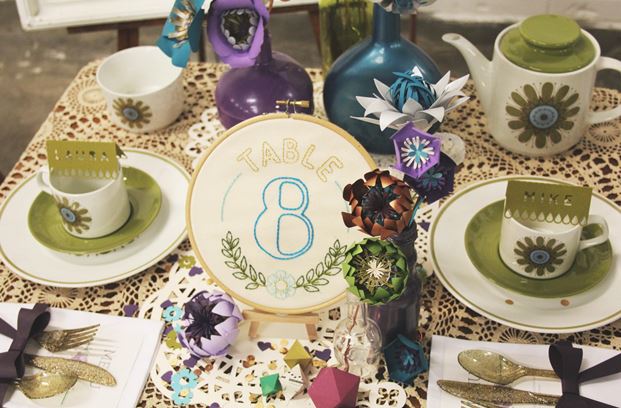 Photo by Emily Cox /  CC BY 2.0
9. Serve at least one of your favorite foods.
Add a personal touch to your wedding by serving your guests at least one type of food that both you and your partner are obsessed about. If you share a love for pancakes, sushi, chocolate s'mores, bacon, milkshakes, or even candy, why not have a separate station for it at the reception?
This is also a great way to save some money because these creative food buffets are quite easy to DIY, and they usually work better when you use comfort food (which is usually inexpensive).
Perhaps a candy buffet?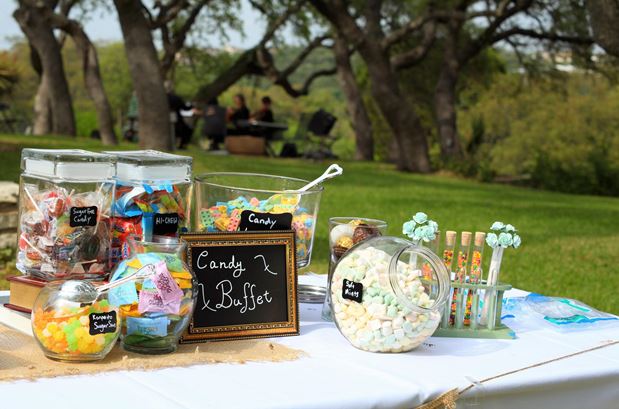 Photo by Jessica Hanrahan / CC BY-NC-ND 2.0
10. Decorate your wedding cake with a customized topper.
And finally, let's not forget the wedding cake topper! If the goal is to add more personality and present a more accurate representation of who you are as a couple, using a customized topper for your wedding cake a great way to do that.
Wouldn't it make much more of an impression to have a custom-made cake topper with figurines that look exactly like you and your partner? You could even recreate one of your most unforgettable moments together, like this cake topper composed of a couple sitting under a Cherry Blossom tree.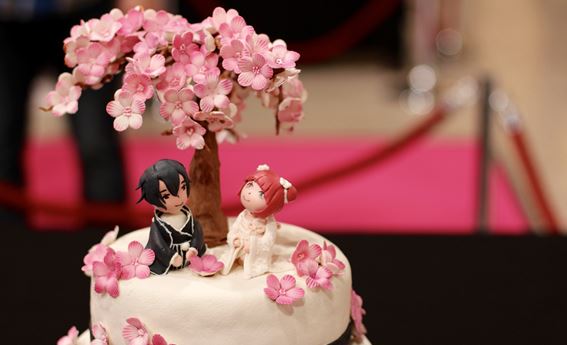 Also, you can add some interesting elements that showcase your mutual interests and hobbies—like this wedding cake topper that shows off the groom's love of sneakers, the bride's striking red hair and tattoos, and the couple's mutual love for "Star Wars."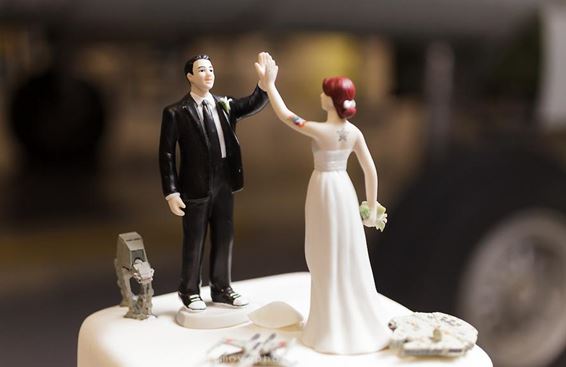 Photo by Sarah Banana / CC BY-NC-ND 2.0
There you have it! Whatever you decide to do in terms of picking out personalized design elements for your wedding, just remember that the goal is to be creative, to tell your story, and to let your uniqueness as a couple shine through!