Moment of Decision; The Battle Between Father, Love And Career
Today, I will be sharing with you the short fictional story that I have just published on Amazon Kindle. If you follow the link I will be given below between today 2nd of August and 3rd of August. Download it here now for free and after the free download date elapsed it will only cost you just a token $2.99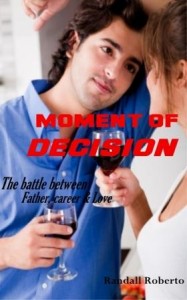 The short story book is divided into six interesting chapters with Tonia as the main character, Henry is Tonia most wanted boyfriend, Tonia's father who tried to control her life in the sense that, he want to be the one that will approve of the kind of guy Tonia will date and married. Duke her boss come into the scene to take Tonia hand in marriage……………
Here are some of what you'll be reading in each of the chapter (I will only talk on chapter 1 to 3)
Chapter One:
Tonia's father has always turn down any guy Tonia brought to him as her boyfriend, but when Tonia met Henry who happens to graduate the same time with Tonia in the same school, Tonia don't want Henry to go just like the way other guys went. Her father was not approved of Henry as a good enough guy for Tonia. Tonia has to battle her father who always mean every of his word. Read the whole chapter in the book to know how everything went.
Chapter Two
Tonia got a job good enough to be on her own, so that she can be free from her father influences in her life. In her apartment, she saw Henry on TV and got to know that he's married with a kid. Her job took much of her time and she can't really find other men that will be suitable for her except her boss Duke. Right there in that company, no employee is allowed to marry one another, even dating is forbidden. Tough, tough decision for her, anyway Duke still go ahead to approach her. Read the rest from the story.
Chapter Three
Tonia was sent on a business trip to represent their company, she is to bring back the report of that trip that same day because, an investor of the company will be visiting the company and the company will need the report to convince him to invest more in the company. The meeting went well, on her preparation to return (she already has a return ticket with her), she saw her most wanted lover Henry at the airport, though Henry didn't see her. What will she do, to meet Henry and possibly miss the flight which could result in loss of her job or forget about Henry and save her career? The rest of the story will take you through an exciting read.
Go now and download the Free Copy in this time of the promotion or Grab a copy of it now with just $2.99 at Amazon. Get it now! The Moment of Decision; A battle between father, love & Career.